10 modern Christmas movies that should become classics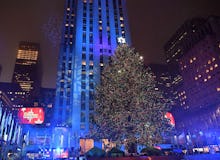 As the weather begins to get colder, we inch closer to a silver lining: the holidays. December is a month meant to be spent with family, shopping for presents and eating lavish feasts. The holiday season is also a great time for cinephiles. 
December often sees the release of high-profile movies. In the past, that has included all six of Peter Jackson's Middle-earth films, Avatar and, of course, the latest two films in the Star Wars franchise. Studios also take advantage of the holidays by releasing holiday-specific genre films. For the same reason people like to go see romantic comedies during Valentine's Day, Christmas movies remain a draw this time of year. 
While perhaps a genre with more misses than hits, there are several classic Christmas movies that will forever stand the test of time. The first two Home Alone films, The Nightmare Before Christmas, Miracle on 34th St and Die Hard (yup, counting it) are just a few classic Christmas movies. 
Lately, it seems like the Christmas genre has not delivered the same type of magic as the previously mentioned films. Maybe it is the move towards larger, blockbuster fare, or, perhaps, a lack of originality due to an over-reliance on formulaic pictures. Still, there are quite a few modern Christmas films that deserve a second look, and just may become classics. 
In no particular order, here are 10 modern (since 2000) Christmas movies that should become classics: 
The Night Before (2015)
The Night Before is not necessarily an out-of-left-field pick for this list. Released a month before Christmas 2015, The Night Before starred a trio of talented actors: Seth Rogen, Joseph Gordon-Levitt and Anthony Mackie. The film was generally liked, with a 66% rating on Rotten Tomatoes, and had the legs to turn its $9 million opening weekend into a solid $43 million. 
What will ultimately make The Night Before a classic is the chemistry between the lead actors. Their comedic romp through the Christmas party scene packs plenty of laughs, making the film easily rewatchable. Throw in Michael Shannon's hilarious supporting role, and The Night Before is the perfect movie to watch after you fill up on eggnog. 
Krampus (2015)
Could it be that 2015 saw the release of more than one classic Christmas film? Quite possibly. Krampus opened on Dec. 4, 2015 and scared its way to $42 million at the domestic box office. Like The Night Before, Krampus was generally liked, though not overwhelmingly so (the film holds a 65% rating on Rotten Tomatoes). 
What could make this film a Christmas classic is that it allows for counter-programming over the holiday. Let's face it, not everybody wants to watch a cheesy feel-good movie. Krampus is definitely not a feel-good movie. There are only so many good Christmas horror films, and Krampus is certainly one of them. 
Just Friends (2005)
While Just Friends, starring Ryan Reynolds and Amy Smart, did not earn outstanding reviews upon its 2005 release, it is a funny and uplifting comedy that puts Reynolds' penchant for hilarity on full display. Its Rotten Tomatoes score also suggests this film could stand the test of time. 
While Just Friends earned a mediocre 42% from the critics, its audience score is significantly higher at 71%. Plus, the film is relatable, as we all have experienced the dreaded "friend zone" at some point in our lives, right?
Carol (2015)
While the theme of this romantic drama may not be Christmas, there are few movies better to watch over the holidays. Based off The Price of Salt by Patricia Highsmith, Carol stars Cate Blanchett and Rooney Mara, whose characters' friendship turns romantic during the Christmas season. 
With six Academy Award nominations — including one each for Blanchett and Mara — Carol should have no issue standing the test of time. A tremendous 94% on Rotten Tomatoes would also seem to suggest that this film could be due for repeat viewings over the holidays. 
The Polar Express (2004)
When it comes to classic Christmas movies, one genre soars high above them all: animation. To this day, no matter how old you've gotten, it is still hard to turn away from the television when Rudolph the Red-Nosed Reindeer, Frosty the Snowman and Santa Clause is Comin' to Town comes on the screen. 
While the Tom Hanks-starring and Robert Zemeckis-helmed Polar Express may never reach the heights of those classics, it is still an impressive work of animation. Created using live-action performance capture, it is based off the beloved children's book of the same name. 
Elf (2003)
2003's Elf, starring Will Ferrell, has all the makings of a modern Christmas classic. And in reality, it probably already is one. If you were to create a checklist of elements a movie must have to become a Christmas classic, Elf has them all: Santa Claus, elves, repaired relationships and Christmas magic all play a role in the 2003 comedy. 
Of course, adding in Will Ferrell's comedic chops doesn't hurt either. Elf has already spawned the type of franchise you would expect from a classic. There's the 2010 Broadway adaptation, Elf: The Musical, and in 2014, NBC aired a stop-motion special titled Elf: Buddy's Musical Christmas. 
This Christmas (2007)
One of Hollywood's biggest emerging stars is Idris Elba. But before his roles in Thor, Pacific Rim, Beasts of No Nation, The Jungle Book and Star Trek Beyond, Elba starred in what soon may be a Christmas classic: This Christmas. You may ask, "What would make a film with so-so reviews from the critics and a plot we have seen before destined for such praise?" 
While the plot may feature common family themes, such as secrets, relationships and, of course, coming together, it is the execution (and acting) that makes this film a modern Christmas classic. The film's 81% audience score on Rotten Tomatoes would also suggest that This Christmas could be enjoyed continuously by the masses. 
Love Actually (2003)
A classic romantic comedy if there ever was one, Love Actually features an all-star ensemble cast of too many talented actors to name. The film, directed by Richard Curtis, is back in the news due to a recent Saturday Night Live election-themed parody of one of the movie's classic scenes. 
Despite earning mixed reviews from the critics, the film fared better with audiences, who couldn't help but fall for Love Actually's romantic story arcs. For your viewing pleasure, check out SNL's parody of one of Love Actually's greatest scenes, below. 
Disney's A Christmas Carol (2009)
Starting with 2004's The Polar Express, director Robert Zemeckis went through a bit of a performance-capture phase. The visionary director of the Back to the Future franchise followed The Polar Express with an adaptation of the classic epic poem, Beowulf, and subsequently used the same technique in his adaptation of Charles Dickens' A Christmas Carol. 
While Disney's A Christmas Carol did not set the world on fire, it will become a classic for one reason, and one reason only: Jim Carrey. In Disney's A Christmas Carol, we were treated to Jim Carrey playing not one character, but four: Ebenezer Scrooge, the Ghost of Christmas Past, the Ghost of Christmas Present and the Ghost of Christmas Yet to Come. 
With Carrey's appearances in film becoming more scarce — he has starred in just four widely released movies since 2010 — we have to appreciate his comedic genius while we can. 
Bad Santa (2003)
Admittedly, not many families will be sitting down on Christmas to watch Bad Santa together. The film is raunchy, crude and mostly meant for when the kids go to sleep — but that doesn't make the film any less enjoyable. 
Like The Night Before, Bad Santa should become an adult-skewing Christmas classic. While the film's recently released sequel was a dud, it does not take away from the original. Starring Billy Bob Thornton as a foul-mouthed con artist, Bad Santa may not get you in the Christmas spirit, but you'll laugh, a lot. 
Mic has ongoing Christmas coverage. Please follow our main Christmas hub here.