German officials release suspect detained in Berlin Christmas market truck attack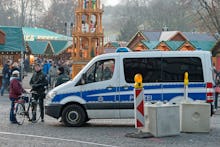 A suspect detained in Germany after a truck crashed Monday into a Berlin Christmas market, killing at least 12 people and wounding more, has been released from custody because of "insufficient evidence."
German officials suspect the attack in the west Berlin neighborhood of Charlottenburg may have been an intentional act of terrorism. A man who is believed to be the truck's original driver was found dead in the passenger seat after the attack. 
On Monday night, German police arrested a man, a Pakistani national and an asylum-seeker, two miles away from the scene . But officials expressed doubt that the man apprehended was the driver of the truck.
"We must get used to the idea that he was possibly not the perpetrator or that he didn't belong to the group of perpetrators," Germany's chief prosecutor Peter Frank said at a press conference, the Telegraph reported.