Lena Dunham said she "wishes" she'd had an abortion because there's no rest for the wicked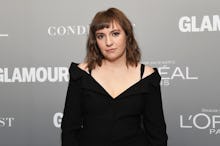 Lena Dunham is back in hot water.
In the most recent episode of her Women of the Hour podcast, Dunham reflected on a visit to a Planned Parenthood clinic in Texas, where someone asked her to join a project in which women would speak out about their abortions. 
"I sort of jumped," Dunham says. "'I haven't had an abortion,' I told her. I wanted to make it really clear to her that as much as I was going out and fighting for other women's options, I myself had never had an abortion."
Of course, it doesn't take having an abortion to be an advocate for reproductive freedom. Dunham forgot this tiny detail — along with all other logic and morals — when she blurted out what followed:
"Even I, the woman who cares as much as anybody about a woman's right to choose, felt it was important that people know I was unblemished in this department," she said.
"Now I can say that I still haven't had an abortion, but I wish I had."
Twitter users immediately pointed out the obvious detail that having an abortion is not a thing to which one aspires:
Dunham's words, of course, follow the election of a president who would like to outlaw abortion altogether. Accordingly, multiple states have since stepped up efforts to place as many restrictions on the procedure in hopes of getting of getting as close as possible to eliminating the practice.
And Dunham played right into textbook anti-abortion rhetoric when she suggested that a woman would want to undergo the procedure. 
Conservatives have long believed that women will have multiple abortions as a form of birth control — though, conversely, anti-abortion site LifeNews published an article in May about an abortion provider's supposed lament that not enough women are seeking abortions. 
But the movement for reproductive rights has always been about being pro-access and pro-women's rights to their own bodies — not some wanton enthusiasm for the act of abortion itself.
On Wednesday night, Dunham posted an apology on Instagram, writing that her intention for the episode had been to "tell a multifaceted story about reproductive choice in America." She termed the gaffe a "distasteful joke" that perhaps belonged more to her character on Girls. 
"My words were spoken from a sort of 'delusional girl' persona I often inhabit, a girl who careens between wisdom and ignorance (that's what my TV show is too) and it didn't translate," she wrote. "That's my fault."
Dunham is a seasoned pro in the art of raising eyebrows, most recently in September when she accused NFL star Odell Beckham of maliciously ignoring her at the Met Gala because he couldn't objectify her. That same week, Dunham joined forces with pal Amy Schumer for an interview where the two laughed off comedian Kurt Metzger's rape jokes. 
If Dunham is looking for a New Year's resolution, we can think of a few.
Dec. 21, 2016, 9 a.m. Eastern: This story has been updated.