Last minute gifts under $50 for Christmas 2016: These classy presents won't seem cheap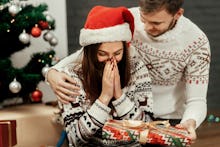 It's the most stressful time of the year! 
Even those with the slimmest of holiday vacations will soon be released from their workplace obligations, at which point it'll be time to frantically pull together a collection of Christmas gifts that will — at least in theory — make you seem like a thoughtful, considerate adult.
Of course, the clock is winding down if you're going to buy something online, unless you're willing to shell out extra for overnight shipping or spring for a beer-of-the-month club membership.
Have no fear. Even if you're one of those shoppers putting it off until the last minute, Mic has your back — with classy gifts that don't scream "procrastinator."
Redemption Rye: $29.99 for 750ml
The age-old solution for a procrastinating shopper: booze.
If you're concerned about playing it too safe, liquor brands love to roll out more eccentric options, especially around the holidays.
Check out Redemption Rye, an affordable bottle that uses nearly double the ratio of rye grains. Think of it as a midway point between whiskey and rye, the type of spirit that's traditionally used in fifties-era cocktails like the Old Fashioned and the Manhattan.
There's also Hornitos, which has a new "black barrel" tequila meant to mimic whiskey that retails for $41 a bottle.
Don't need anything too fancy or offbeat?
A solid, classic whiskey, Bushmills Black Bush is a good value choice that will show even the most seasoned tippler you know your stuff — without you going into debt. It's aged for 11 years and can be had for a cool $25 bucks.
That leaves cash in your budget for accessories to accompany the potables.
Sharper Image has an eight-piece mixology set that you can buy on Overstock for only $30 bucks. And Bos has a cool set of coasters that double as bottle openers.
If the recipient in question is a beer drinker, couple an obscure six-pack with Pier 1's beer flight set or a high-tech beer coozie from Corkcicle. 
Tatcha Kyoto Cleanse set: $27.00
Is your gift-getter really into skincare?
Check out Japanese brand Tatcha, which you can buy at Sephora. Their line includes a great cleanser set, style and beauty writer Sara Spruch Feiner told Mic. And you should ignore the stereotypically feminine packaging, she said, as the products work wonders for men and women alike.  
Also: Check out products by the Ordinary, a brand that Spruch Feiner described as "the next big thing" for discriminating lovers of serums.
It's intimidating stuff for the uninitiated, though the company site has a handy guide with "example regimens" so you can buy a few bottles to make a set.
"You could give someone really high-quality serums for under $10" each, Spruch Feiner said.
Just make sure the recipient is someone who will be appreciative — not offended — by a gift designed to address skin "issues."
For dudes who like "manly" scents, Baxter of California has a great line, including a shave duo kit for $31.50.
The brand Das Boom also has a whole line of products sure to comfort even the most fragile of masculinities with scents like bourbon and leather, and tobacco, musk and motor oil. Their "Everywhere" lotion is great, especially if you've got dry skin.
MeUndies: $20 a pair and up
Socks and underwear are another way to go relatively high-end without breaking the bank: Direct-to-consumer sites like MeUndies, Pair of Thieves, and FootCardigan offer a bevy of cool designs, by subscription or as a one-off. 
"You can also get like really nice Everlane pajama separates for under $45 each," Spruch Feiner said. If you can't find another gift giver to help chip in for the full set, "just go with the bottoms," she said.
Want something that feels a little less boudoir?
One of Spruch Feiner's best tips was to look at Coach items; despite — or perhaps because of — the company's somewhat confusing rebrand, affordable fashion finds can be found. Their leather card case, for instance, is currently on sale for $49, down from $75. 
Finally, if you are looking for a sartorial gift but you've really dropped the ball and are pressed for time, check out online personal-stylist startups like StichFix or TrunkClub, both of which offer gift cards in a pinch.
Valfré portable charger: $40
There's not a ton of good tech that can be had for under $50, unless of course the person in question is a gamer, in which case, a gift card on the gaming site Steam is very likely to be appreciated. You can even buy Steam gift cards via PayPal and have them sent directly to the recipient's email, making this a truly last-minute gift you can buy on the cab ride to the holiday party. 
Have more time? LA-based designer Valfré has a chic portable charger that retails for a reasonable $40. If you're looking for something a little more on the utilitarian-side, the Wirecutter recommends the Jackery Titan S. 
Of course, hardened techies and smartphone addicts may already have a portable charger they like, in which case you may want to think a little more outside of the box when it comes to accessories.
Perch has tech-friendly leather goods which are easy on the wallet, like a cord shell to protect your earbud headphones costing $9.50.
Online store Touch of Modern has a pretty groovy selection of high-tech gadgets like glowing charger cords that let you see the flow of current — and a bluetooth padlock which means you'll never have to fiddle with a key or combination at the gym.
Is the geek in your life absent-minded? Bluetooth trackers like Chipolo and Tile Mate will keep them from misplacing their keys, wallet, phone and more. 
If you're hoping to get these items online, time is running out — although many also retail in stores.