Game Boy iPhone Emulator: Delta hands-on review showcases non-jailbreak GBA and SNES app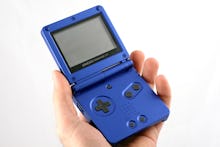 Nintendo might be bringing new games straight to smartphones, but power users are still finding ways to play classic titles on their devices. Enter Delta, the latest non-jailbreak emulator from the creators of popular but now-defunct Game Boy emulator GBA4iOS.
Delta is still in development. But here's a close look at the beta version of the emulator, courtesy of Motherboard.
iPhone Game Boy Emulator: Delta beta hands-on
The beta for Delta on the iPhone and iPad allows playback of Game Boy Advance and Super Nintendo titles. Game Boy Color and Nintendo 64 functionality didn't work perfectly, though support for both systems is on the way. And no, the games don't require you to be connected to the internet to play.
Software buttons appear onscreen, allowing you to control your direction and press A or B. When playing Super Nintendo games, X and Y buttons appear as well. Playing in portrait mode even offers a similar color arrangement to the buttons on a classic SNES controller. 
The app, developed by Riley Testut, looks pretty similar to GBA4iOS, which Testut also worked on. Players load games into the app individually and can fire them up with a simple tap. Instead of downloading games right onto a device from the web, however, players have to import files using Dropbox, Google Drive, iCloud Drive or over a wired connection through iTunes.
Delta hands-on: No iPhone jailbreak required 
Those hoping to install Delta on their iPhone but uncomfortable with jailbreaking are in luck: The app will be available on non-jailbroken devices. You still can't download it directly from Apple's App Store, though. With GBA4iOS, the developer managed to get around Apple's strict policies using a special date trick, though that was eventually blocked. GBA4iOS's creator found another workaround, which required sharing the emulator on a person-by-person basis.
It's unclear how Testut plans to distribute Delta. The developer wouldn't reveal any plans to Motherboard, but we should learn more once the public beta test begins, followed by an official launch sometime in 2017.