Who swears in the president of the United States?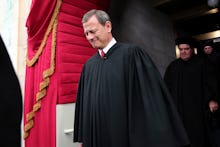 The chief justice of the Supreme Court swears in the president of the United States on Inauguration Day. That means Chief Justice John Roberts will swear in Donald Trump on the steps of the Capitol Building on Jan. 20 to officially begin the Trump administration. 
According to the Telegraph, the inauguration will occur at 12 p.m. Eastern and symbolizes the exchange of power between the outgoing president (in this case, President Barack Obama) and the incoming president. 
Who is Chief Justice John Roberts? 
Roberts was born in 1955 in Buffalo, New York, and lived in New York before moving to Indiana with his family in 1959. Roberts graduated from Harvard Law in 1979 and worked as a clerk for Supreme Court Justice William Rehnquist, an aide to U.S. Attorney General William French Smith and in the private sector for Hogan & Harston before President George H. W. Bush appointed him Principal Deputy Solicitor General. In 2003, President George W. Bush nominated Roberts to the U.S. Court of Appeals; two years later, he was sworn in as the youngest chief justice of the Supreme Court in 100 years. 
What will Chief Justice Roberts say when swearing in Donald Trump?  
Roberts will swear in Trump by asking him to repeat the Oath of Office. According to the National Museum of American History, the oath reads: 
"I do solemnly swear (or affirm) that I will faithfully execute the Office of President of the United States, and will to the best of my Ability, preserve, protect and defend the Constitution of the United States."