'Lip Sync Battle' preview: Cassadee Pope and Dustin Lynch pit rap vs. rock in sneak peek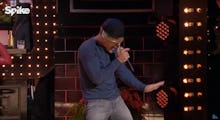 There are few things quite as satisfying as watching celebrities battle it out as they take turns lip-syncing to their favorite songs, which just happens to be the premise of Spike's Lip Sync Battle. The show's next episode features Cassadee Pope and Dustin Lynch vying for the title — and now we've got a sneak-peek look at some of their performances.
Hosted by Grammy-winning rapper LL Cool J and model Chrissy Teigen, Lip Sync Battle's next installment will feature Lynch mouthing the words to "What's Your Fantasy" by Ludacris and Pope performing Panic! at the Disco's "I Write Sins Not Tragedies."
Of course, since Pope and Lynch are both professional singers and songwriters, they should feel right at home on the Lip Sync Battle stage. Lynch's country hits include such tunes as "Seein' Red" and "Hell of a Night," while Pope — winner of The Voice's season three — is known for her rock songs "Think of You" and "I Am Invincible."
The next episode of Lip Sync Battle airs at 9 p.m. Eastern Wednesday on Spike.