'Overwatch' update: New comic reveals Tracer has a girlfriend — and we are here for this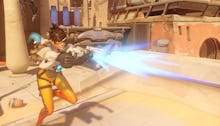 Editor's note: Spoilers follow for the Overwatch comic "Reflections." You can read it on Blizzard's website.
The Overwatch team has said for more than a year that multiple heroes in its roster are LGBTQ, and it just revealed the first of these characters in a new holiday-themed comic on the Overwatch website called "Reflections."
Overwatch hero Tracer revealed to be in a lesbian relationship
The main plot of the comic revolves around Tracer as she speeds around town, trying to buy a Christmas present for someone. Along the way, she stops a robber and does a few other good deeds, only to wind up empty-handed. As a thank-you for stopping the aforementioned burglary, a young kid gives Tracer one of her Christmas gifts. 
When Tracer returns home, you can see her talking to a woman named Emily, who thinks the present is for her. Emily's thank-you for the gift? A big ole' smooch on the lips for Tracer.
That's right. One of the LGBTQ heroes in the Overwatch roster is the game's most recognizable title character, Tracer.
The comic also shows every other Overwatch hero as they celebrate the holidays. Some are pretty cute — like Pharah, who's seated across a table from a mysterious gentleman — but others are downright depressing.
The full comic is available for free on the Overwatch website.
Fans react to the Tracer reveal on Twitter
So far, internet feedback on the big reveal seems to be overwhelmingly positive. Here are a few responses fans posted after Overwatch shared the comic on Twitter.
For more on Overwatch, read Blizzard's response to the outcry over Mei's winter skin, read up on the latest rumors of a Terry Crews-voiced Overwatch character, check out all the updates in patch 2.01, read the fandom's reactions to that Zenyatta Nutcracker skin, uncover the hidden details in the Winter Wonderland event and check out all the other unlockable goodies you can earn for Overwatch's other characters.