Where is the president inaugurated?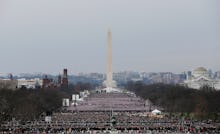 The inauguration of the president of the United States takes place on the west lawn of the U.S. Capitol building in Washington, D.C. President-elect Donald Trump will be sworn in at precisely 12 p.m. Eastern Jan. 20, with Vice President-elect Mike Pence taking his oath of office just before. 
Why is the president inaugurated at the Capitol? 
As stated by the Joint Congressional Committee on Inaugural Ceremonies, the first inauguration that took place at the Capitol building was that of Thomas Jefferson. Jefferson's ceremony was held indoors, but beginning with Andrew Jackson's inauguration in 1829, presidents were sworn in on the east front of the Capitol so spectators could watch. 
Ronald Regan's inauguration in 1981 was the first held on the west front of the Capitol to help minimize construction costs and to give more spectators the chance to watch the ceremony. 
Who builds the platform?
The Architect of the Capitol (AOC) erects the platform on the Capitol's west front and assembles the seating, fencing and any other physical arrangements necessary for the ceremony. The AOC is a federal agency charged with the preservation, maintenance and development of the Capitol Complex.