Emmy-nominated journalist refused Uber service for being Arab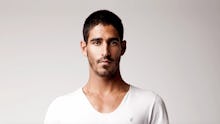 Ahmed Shihab-Eldin has an Emmy nomination for his work on Al Jazeera English's The Stream, but that didnt help him with his Uber driver on Sunday night.
At around 10 p.m., Eldin, a correspondent for AJPlus, requested an Uber ride after arriving at Union Station in Washington, D.C., where he had traveled to film interviews with members of Congress about President-elect Donald Trump's proposed Muslim registry. When he received a notification that his driver has arrived, Eldin, wearing a hat with "love" written in Arabic and a suitcase in tow, scurried across the street toward the vehicle.
"I'm aware [my hat] is a political statement in a sense, because Arabic is so politicized," Eldin said in a phone interview. 
Eldin told the driver his name was Ahmed. The driver, according to Eldin, said he shouldn't have approached his vehicle in a hurry. "You could be an attacker," the driver said, according to Eldin. The driver then refused to open the trunk of his car and locked his passenger doors. Eldin explained that he was trying to escape the cold, but the driver refused to allow him into the vehicle. After the incident, Eldin shared a screencap of his complaint to Uber on Twitter.
Expriences with discrimination while riding Uber have become commonplace. On Dec. 7, a cab driver in D.C. verbally assaulted Ilhan Omar, the first Muslim and Somali lawmaker in Minnesota. Omar said the driver called her "ISIS" and threatened to remove her headscarf.
The problem doesn't lie solely with drivers, either. Earlier in November, a man verbally assaulted a Muslim Uber driver from another car at an intersection in New York City, calling him an Arab and a terrorist. "They'll deport you soon," the man said, according to The Sun. "Dont worry, you f*cking terrorist." According to the Huffington Post, in November 2015, a white man in his 30s asked his Uber driver if he was Muslim and threatened to kill him.
When asked for comment via phone, an Uber spokesman said that the company was aware of Eldin's incident and had made efforts to contact him and the driver. Uber said it is currently investigating the incident, but in the meantime, the driver will be prohibited from accessing the Uber app.
The spokesman said that Uber has a zero-tolerance policy regarding discrimination.
But Eldin said this was the third instance of racial profiling that he had experienced on Uber this year. The second incident took place two weeks before the election, when Eldin hopped into a vehicle for an Uberpool ride, a lower-cost option for riders to join other riders heading in the same direction. The driver, who was white, told Eldin to get out of his car when he found out his name was Ahmed. The first incident happened in September in Washington, D.C., as Eldin was speaking with his mother on the phone in Arabic while in an Uber car. According to Eldin, the Uber driver was muttering under their breath during Eldin's conversation with his mother. After about three minutes of driving, the driver pulled over and told Eldin to leave the car because he was off-duty.
Eldin said that he shies away from speaking about facing Islamophobia, in part because he fears being stereotyped as a minority with a victimization complex. 
"In an era of fake news, where perceptions dictate policy and public opinion, I don't want to just be another Muslim that's complaining," Eldin said. "The reason I did report this is because I am aware of the narrative that exists around Islamophobia and how politicized it is."