The government is yanking Americans' retirement checks because of unpaid student debt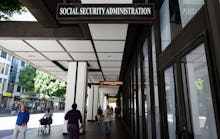 Student loan debt is not just a problem for the young; it's increasingly following Americans into their retirement years.
In fact, the federal government withheld more than $170 million in 2015 payments to retirees — euphemistically dubbed "Social Security offsets" — because of defaulted student loan debt, according to a report released Tuesday by the Government Accountability Office.
Lower-income older Americans were hit especially hard.
The reduction of Social Security benefits because of unpaid student loans left many of the people affected with incomes below the poverty line — which ranged from $11,770 for a single-family household to $40,890 for a family of eight in 2015, according to the Department of Health & Human Services.
"Many older borrowers subject to offset have their Social Security benefits reduced below the federal poverty guideline because the threshold to protect benefits — implemented by regulation in 1998 — is not adjusted for costs of living," the GAO report said.
More than $1.1 billion in Social Security payments have been withheld from Social Security recipients since 2001, the GAO found.
According to the report, borrowers aged 50 and older who had their Social Security wages garnished thanks to unpaid student loans saw a monthly reduction in income of about $140.
The report shows a perhaps-surprising proportion — about 40% — have had their student debt for at least 20 years.
Most were on the hook for their own borrowing: Three-quarters of the people who saw their Social Security garnished took out the loans for their own college degrees. Others, however, borrowed loans to help pay for their kids' education. 
The GAO has referred the study to the Senate Special Committee on Aging.
Two of the top Democrats on the committee — Sens. Claire McCaskill and Elizabeth Warren — said they fear the number of seniors with unpaid student debt is "the tip of the iceberg" to a growing problem, the Wall Street Journal reported.
This is not the first time the GAO has issued a dire report on aging and disabled individuals' student-loan woes.
According to a 2014 GAO report, 27% of federal student loans held by people between the ages of 65 and 74 were in default; more than half of loans were in default for individuals aged 75 and older.
That compared to only 12% of loans for people aged 25 to 49.