'Pokémon Go' Christmas loading screen swaps curvy female trainer for a slimmer one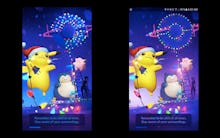 Pokémon Go has had a busy few weeks, adding new Pokémon to the game and gifting Pikachu with a Santa hat for the holidays. So it's possible you may have missed a subtle, but still significant change to the game's load screen.
Pokémon Go's female trainer makes her load screen debut
The first, and much more noticeable, change came last week when Niantic rolled out a totally new load screen to celebrate the holidays. Upfront you can clearly see Pikachu wearing a festive hat while hanging lights. In the background, you may also notice the silhouette of Pokémon Go's female trainer character.
This was the first and only time the female avatar had appeared on the load screen:
Players were quick to point out — and some chose to objectify — her cartoonishly curvy body.
Niantic changes the Pokémon Go load screen again
Seemingly in response, Niantic pushed out a slightly modified load screen as part of a minor Pokémon Go update. Here's the new, slimmed down female trainer from Pokémon Go with a slightly more natural stance:
Again, Pokémon Go players were quick to respond.
As far as we can tell, the second load screen seems like an attempt to correct some questionable art included in the original version. (Mic reached out to Niantic for comment on the change and will update with a response.)
However, it's unclear exactly why Niantic reversed course at all. If the load screen silhouette is supposed to represent the in-game female trainer, the first version may have actually been more accurate.
Regardless, Niantic didn't exactly deal the situation well. Instead of responding directly to criticism, it simply swept the old load screen under the rug in favor of a slightly modified new one. But based on recent history, it's clear the issue still could have been handled even worse.
Pokémon Go's female trainer isn't the first to assume an unnatural pose
Comic books and video games are known for their inability to portray a realistic-looking female hero — and fans have come up with brilliant ways to clap back at this kind of subtle sexism. 
Remember this variant cover for Spider-Woman #1? And the fan art that put male superheroes in the same position?
The Overwatch hero Tracer had a similar saga. When gamers called out how the character was posed in promotional material, Blizzard removed it.
In the case of Pokémon Go, it didn't take much time for the issue to be corrected, and it didn't require massive outcry for the change to take place. Now that the female trainer silhouette more closely resembles the actual playable girl character, perhaps the devs over at Niantic can get back to giving us some actual Gen 2 Pokémon in Pokémon Go.
More Pokémon Go news, tips and tricks
If you actually are about to plan another holiday Pikachu hunt, you may also want to check out Mic's Pokémon Go guides. Here are guides on how to catch Gen 2 baby Pokémon, the 98 Gen 2 Pokémon that have yet to be added to the game, how to catch Pikachu and his adorable new Christmas hat, post-update Chansey and Rhydon, everything you need to know about finding the long-awaited Pokémon Ditto, creating new PokéStops, how to maximize your chances  of catching Pokémon and fresh information about how PokéStops distribute Pokémon eggs.