Volkswagen recalls 83,000 more cars in emissions scandal, must pay $250 million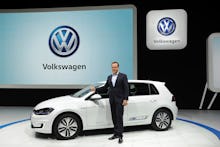 Auto giant Volkswagen Group has agreed to recall an additional 83,000 cars and pay a total of $250 million as part of the continuing fallout from a scandal over falsified emissions data in its cars, the Environmental Protection Agency and Volkswagen announced Tuesday.
"In this settlement, we're taking steps toward holding Volkswagen accountable for its violations of law and what we consider to be their breach of the public trust," said John Cruden, head of the Justice Department's environment division, according to the Hill.
The 83,000 cars are models with three-liter diesel engines that Volkswagen engineers programmed to emit lower amounts of nitrogen oxides during field tests than would actually be emitted during normal use.
The newest recall, settled with the EPA, Department of Justice and California state authorities, is part of a larger settlement that has already cost the company billions and forced the company to recall millions of other vehicles with 2-liter engines.
According to Volkswagen, $225 million will go to a trust fund set up to combat the effects of excess diesel emissions, while another $25 million will go to support zero-emissions vehicle production in California.
Specifically, Volkswagen will recall 63,000 model year 2013 to 2016 vehicles — and the company has the option of buying back, modifying or terminating the leases of 20,000 model year 2009 to 2012 vehicles.
The emissions modification must be approved by regulators, CNBC reported.
"Today's partial settlement does not resolve any pending claims for civil penalties, nor does it address any potential criminal liability," the EPA wrote in a statement. "The settlement also does not resolve any consumer claims, claims by the Federal Trade Commission or claims by individual owners or lessees who may have asserted claims in the ongoing multi-district litigation."
In other words, consumers may still be able to sue even after VW pulls affected cars and pays the penalty.
"This consent decree provides a remedy for every affected vehicle which will be removed from the road or meet enforceable standards that will reduce emissions, and will also require VW to provide additional funding to address the harmful impacts to human health and the environment from VW's violations," Assistant Attorney General John C. Cruden said in the EPA's statement.
Own a Volkswagen? Use this tool on the VW website to see if your vehicle is part of the recall.