'Overwatch' Reflections Comic: Blizzard blocks comic in Russia over Tracer's same-sex kiss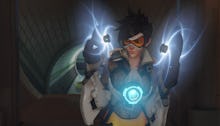 In a comic published on the Overwatch website on Tuesday called "Reflections," it was revealed that Tracer, the character who appears on the game's cover, is in a relationship with a woman named Emily. One panel shows the two characters kissing after Tracer gives Emily a Christmas gift.
This sent ripples through the Overwatch community, who had long called on Blizzard to make good on its promise that "multiple heroes" in the Overwatch roster were LGBTQ.
However, thanks to Russia's law that prohibits content that could be construed as so-called "propaganda of nontraditional sexual relations" — which is often colloquially called Russia's anti-gay or anti-LGBTQ propaganda law — Overwatch fans in Russia are unable to view the comic.
Overwatch "Reflections" comic blocked by Blizzard in Russia
According to this post on Reddit, here's what Overwatch fans in Russia see when they try to view the "Reflections" comic:
The caption informs readers that due to Russian legislation, the comic is unavailable. Though the message doesn't specify the legislation in question is the anti-LGBTQ propaganda law, the comic contains very little content that might be deemed objectionable, except for a same-gender kiss.
In a statement emailed to Mic, Blizzard said the following on the matter:
Due to local legislation in the Russian Federation, we are unable to bring our recent 'Overwatch' digital comic to players in the region. We regret that those who were eager to read this story comic are unable to do so in their native language.
In a statement provided to Eurogamer, Blizzard elaborated a bit further and said it was its own decision to block the comic.
"We preemptively decided not to publish given the climate in Russia and legal feedback," the statement said.
Blizzard's decision to block the comic in Russia seems to revolve around a particular part of the law that references minors. Specifically, since the Russian law prohibits any material that could be construed as LGBT propaganda targeting minors, media with LGBT content released in Russia usually has an 18+ age rating. For example, Sims 4, which allows for characters to have same-sex relationships, carries an 18+ rating in Russia, according to a report by Polygon.
It seems that releasing the comic in Russia may have been grounds for the Overwatch to get re-rated as 18+. Blizzard appeared to have elected to block the comic instead.
Mic has reached out to Blizzard for additional clarification on whether it has plans to make the comic available to its fans in Russia in the future. We'll update this post if we hear back.