Gifts under $50 that will bring instant joy to whoever receives them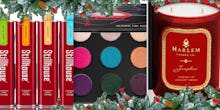 Time is running out to get gifts for the holidays! But don't freak out. There are so many affordable options to shop ahead of next weekend. And if your budget is in the $50 range, you want to consider the lesser priced items of high-end brands, subscription services or stylish items that can be worn everyday.
In all three categories, we've found options. To keep warm we've included gloves, to enjoy monthly treats a cheese subscription and to stunt a little bit, sandals from a designer brand.
If you found a gift for hair here, then check out what we have under $50 below.
Newburry Knitting Co. Nomad Glove: $28
A staple part of the winter season are gloves. Wool or leather gloves that insulate, to be specific. Gift these wool gloves handwoven in Upstate New York that, bonus, have genuine deer skin palms.
Stillhouse Peach Tea Whiskey: $29
For those of you who know someone who needs a hard drink to tolerate family during the holidays, this is a fantastic gift. Stillhouse takes a rustic approach to their 69-proof infused whiskey packaging by using stainless steel tins.
Harlem Candle Company Josephine Luxury Candle: $42
This luxury candle company is not only located in Harlem, but inspired by the glamorous Renaissance of the 1920s. Their Josephine candle has sweet notes of rose, vanilla and amber. 
Make Up For Ever Artist Palette Volume 2: $44
Have a friend who loves high-end makeup but doesn't have high-end makeup money? Gift them this affordable eyeshadow kit from a makeup brand created and used by professional MUAs.
Beekman 1802 Cheese of the Month: $50
Cheese! Sorry, we just got incredibly excited at the thought of getting a new cheese delivered to the house monthly. Gift this subscription to the impeccable party host in your life. 
EyeBuyDirect Hamptons Glasses: $49
These sunglasses with emphasized brows come in a variety of colors. Beyond showing off in the summertime, its lenses can include a prescription. 
Ball Set of 12 1 Quart (32 oz.) Regular Mouth Canning Jar: $10.19
Brooklyn-ize your loved one's home with this hipster kitchen favorite. Not only are these mason jars incredibly hard to break because of their thick glass, they also double as cute drinking cups.
Alice and Olivia Carly Rubber Flip Flop: $48
These 100% rubber thong sandals are perfect for vacations, casual summer outings or the stylish college student who needs shower shoes in their dorm. Striped with pop out lips, they'll love to show these off.  
Foot Cardigan Subscription: $9 a month
Sock lovers (or people who always lose one sock after laundry day) will appreciate this subscription service. We particularly loved these cookies and milk ones.
Q&Q SmileSolar Series Watch: $32
Simplistic in design, this white-on-white watch from Q&Q will look good on the person you're gifting — and anyone else who wears it. A portion of sales from this timepiece go to Table for Two, a nonprofit that provides meals for people experiencing undernutrition in the United States, Europe, Asia and Africa. 
This month, Mic Essentials brings you handpicked deals, reviews, recommendations and gift ideas. For more ideas, see our lists for Under $100, Headphones, Hair Products and Phone Cases. If you buy something through a link on this page, Mic may earn a small commission.