President Obama turns to new tactics to prevent Trump from drilling in Arctic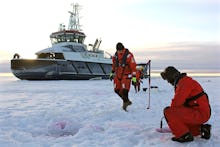 President Barack Obama declared vast stretches of the Arctic and Atlantic off-limits for future drilling on Tuesday in a move seemingly intended to prevent the future administration of President-elect Donald Trump from leasing the areas to oil and gas companies, CNN reported.
Obama invoked the power of the 1953 Outer Continental Shelf Lands Act to declare sections of the Chukchi sea under U.S. jurisdiction and the majority of the Beaufort Sea "indefinitely off limits" for future energy extraction. That's a departure from previous restrictions on offshore drilling Obama imposed using executive actions, which Trump could easily undo.
In a statement, the White House said the new bans would "protect a sensitive and unique ecosystem that is unlike any other region on Earth," adding it would also prevent oil spills and a decadeslong investment in regional oil infrastructure "at a time when we need to continue to move decisively away from fossil fuels."
The Washington Post reported the change in policy was coordinated with the Canadian government, whose prime minister, Justin Trudeau, is shielding similar areas governed by Canada.
According to the Post, while Trump cannot unilaterally reopen the areas to drilling, it is "not clear" if he could do so with the consent of a Republican-controlled Congress. According to Politico, although no prior president has rescinded such an order, "Republican lawmakers may try to reverse the protections by reworking the underlying law, attempting to use the Congressional Review Act or forcing changes through the financial reconciliation process."
Trump has stacked his administration with a number of fossil fuel industry advocates, and has repeatedly promised to increase drilling and roll back regulatory oversight of energy companies.
"There is a precedent of more than half a century of this authority being utilized by presidents of both parties," a White House aide told the Post. "There is no authority for subsequent presidents to un-withdraw ... I can't speak to what a future Congress will do."