Gifts that give back from Kiehl's, Toms, Warby Parker and more charitable brands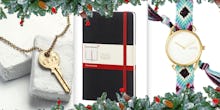 In a season all about gifting loved ones, it's important to think about others in need, outside of our circles. 
What truly makes the holiday season special is altruism, and many businesses make giving back easy, selling products that donate a portion or all of sales to  nonprofits.
When making our list we chose three types of brands giving back. The first type are those that support outside nonprofits with a portion of sales. Second, businesses with their business model is entirely based on giving back. And third, we looked at businesses that support sustainability — because we all know it's important to provide the skills for communities to grow on their own.
After checking out our under $50 gift guide, see what we have here.
Kiehl's Ultimate Strength Hand Salve Trio: $34
Kiehl's packaged their most popular hand cream in one trio-case, designed by Faile, a Brooklyn, New York-based art duo. Aside from the gorgeous gold packaging, 100% of the profits from this sale go to Feeding America.
Toms Red and Black Plaid Women's House Slippers: $49
Lined with fur shearling, these cozy slippers have a footbed designed for comfort. Like all of Toms products, when you buy one pair of shoes, another goes to a person in need through Toms' One for One global initiative. 
Brother Vellies Brown Suede Erongo Shoes: $195
Giving back also means supporting sustainable fashion brands that give fair wages to the people who make their product. Aurora James' CFDA-winning brand does this by paying the individuals they employ in South Africa and Kenya a respectable wage.
Shea Moisture Manuka Honey & Mafura Oil Intensive Hydration Oil: $10.99
This five-star rated rinse-out conditioner marries shea butter, honey and antioxidant-rich African Rock Fig. In addition to giving life to dry hair, 10% of sales go to Community Commerce that supports women-led businesses in Ghana.
Warby Parker Downing in Walnut Tortoise: $95
A Mic staff pick, these durable frames come in three different color ways. Warby Parker is known for their charitable business model that quantifies the sale of frames to donate for training people to give eye exams and sell glasses to their community at affordable prices. 
Rumba Jane x GiveDirectly Gold Watch: $60
Childhood nostalgia won us over with this cotton braid strap watch. Aside from coming in vibrant color combinations, $2 from every sale of these watches goes to one of four nonprofits. 
Poketo x Krotchet Kids Intl Limited Edition Beanie: $34
This one-size-fits-all beanie was handmade in Peru and Uganda, two countries connected by the African diaspora. The mission of Krotchet Kids Intl is to provide fair income and education to the individuals living in poverty, making their goods.
Della Golden Rombus 13" Case: $48
Della is another sustainable fashion brand that's been working in West Africa for years. In addition to hand-dyed apparel, they make beautiful tech accessories from traditional wax cloth.
The Giving Keys Classic Necklace: $42
This jewelry brand believes in the power of words and paying it forward by gifting someone the key you buy. They have so many dope options, but we love their classic gold key necklace made by those transitioning out of homelessness. 
(Moleskine)RED Classic Notebook: $19.95  
Put aside the cache of carrying a Moleskine notebook. This one goes beyond fashion, donating a portion of funds to the Global Fund to fight AIDS. And yes, it has their staple ivory paper and ability to be laid flat at 180 degrees. 
This month, Mic Essentials brings you handpicked deals, reviews, recommendations and gift ideas. For more ideas, see our lists for Under $100, Headphones, Health Nuts and Phone Cases. If you buy something through a link on this page, Mic may earn a small commission.