Shop these under $25 gifts from Rebecca Minkoff, daya by Zendaya and more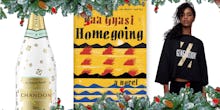 Just because your budget is tight doesn't mean you can't get some amazing gifts under $25. Christmas may be over, but Hanukkah and Kwanzaa are still ongoing. This list covers all the bases, from luxury brands like Waldorf Astoria to department stores like Target.
When essentially paying with a $20 bill, you want to consider small items that connect with the person you're gifting in a sentimental way, or something that they can use on a regular basis. Also, consider packaging that can make inexpensive gifts look all the more special.
Enjoy our favorite fragrances, then check out our under $25 list here.
Editor's note: Prices and product availability are subject to change throughout the holidays.
Limited Edition Rebecca Minkoff x Chandon Sparkling Wine: $24 
Chandon partnered with Rebecca Minkoff to design this festive bottle. Filled with Chandon Brut Classic, this bottle of bubbly has gold studs glamorous enough to pop for New Year's Eve. 
The Waldorf Astoria Bar Book: $25
After five years of research, this recipe book reveals the intriguing history of each cocktail, spanning back from pre-Prohibition to the Waldorf Astroria hotel. Not meant to be intimidating, its classic recipes — like the original Manhattan or Hemingway's daiquiri — are for both new bartenders and seasoned professionals.
e.l.f. Cosmetics All About Eyes Set: $10
A perfect gift for first-timers to experiment with makeup, this set comes with 32 eye shadow colors, eyelid primer, a shadow brush and a liner brush. 
Beekman 1802 Tinted Lip Balm Stocking Stuffer: $24
Three hydrating lip balms with a slight tint come in this bow-bedecked box. The apricot-honey, grapefruit and rose balms are made of real beeswax, shea butter and goat milk.
Flo and Theo Green Clay Face Mask: $18
A skin refresh is necessary for us all just about once a week. Gift your bestie this green tea-infused mask that detoxifies and cleanses the skin. 
Chewie Sleepwear Onesie: $19.99
Aside from the whole taking-it-off-to-pee thing, onesies are a worthy investment for ultimate comfort. For the Star Wars fan, this Chewbacca suit is a great gift to buy at your local Target store.
daya by Zendaya Cropped Drop Shoulder Tee: $14
Pop star Zendaya debuted her clothing line in November 2016, which includes this logo-emblazoned sporty black and gold top. Shop her site for more trend-focused apparel in sizes 0 to 22. 
Forever 21 Fruit Pin Set: $7.90
Jackets, bags or jeans can be embellished with these fruit pins. Even though they're whimsical, there's something classically punk and edgy about adding pins to apparel. 
Homegoing: A Novel: $16.56
This is one of those books that you read and immediately buy copies for loved ones to enjoy as well. Yaa Gyasi tells the full-circle story of two Ghanaian sisters separated by time, privilege and continents in this critically acclaimed novel. 
American Apparel Black Flex Fleece Dog Zip Hoodie: $28
Dogs need love too, and this fleece hoodie from American Apparel is worth going a little over budget. It has a convenient zipper enclosure across the stomach and pocket at the back for style.
This month Mic Essentials brings you handpicked deals, reviews, recommendations and gift ideas. For more ideas, see our lists for Under $50, Hair Products, Beauty Stocking Stuffers and Phone Cases. If you buy something through a link on this page, Mic may earn a small commission.