'The Mummy' trailer with no sound effects: Watch the hilarious broken trailer video here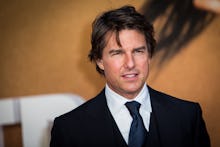 Ever since Marvel launched its highly lucrative cinematic universe, other studios have tried to replicate that success. Warner Brothers is several films into their own DC extended universe, Paramount is working on a Transformers shared universe and Sony has had thoughts of developing a 21 Jump Street/Men in Black universe. Not to be left behind, Universal will be launching their own shared universe this summer with Tom Cruise starring in The Mummy, which released its first trailer two weeks ago. 
As opposed to the Brendan Fraser franchise of the same name, which launched in the late '90s, the Tom Cruise film is moving the action to a modern setting — and there will be plenty of action. If the first trailer is any indication, The Mummy is being positioned as an action thriller that is part monster movie, part Mission: Impossible. A film of such spectacle can only be experienced on the largest screen possible: IMAX. 
According to Cinema Blend, IMAX recently posted a version of The Mummy trailer on their YouTube page to entice fans into seeing the film in their premium format. There is one issue, though. While IMAX is known for its high quality audio, the trailer posted had a distinct lack of sound effects. 
The result is pretty much hilarious. Although IMAX has since taken down the video, such mistakes are not so easily erased in the internet age. Thanks to YouTube user ParagonX13, you can watch the broken trailer below:
The trailer's hilarity really begins once the plane Tom Cruise is on starts to go down. From there on, viewers are treated to a mix of loud breathing, screams, grunts and pretty much everything but the effects you would expect to hear during a crashing aircraft. 
While the trailer is quite funny, it also gives some interesting insight into the creation of some of our favorite films, and how much work goes into a finished project. Even after all the costumes, writing, acting and filming, the movie is just not finished until the sound effects are added. There is a reason the Academy Awards recognizes this particular area of artistry. 
Along with Tom Cruise, The Mummy stars Sofia Boutella, Annabelle Wallis, Jake Johnson, Courtney B. Vance and Russell Crowe. The film is directed by Alex Kurtzman. The Mummy will hit theaters on June 9, 2017.