Lisa Marie Naegle death: What we know about 'Bridalplasty' contestant's alleged murder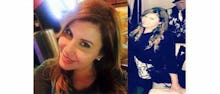 After being missing for days, authorities found the body of Lisa Marie Naegle on Tuesday night in the Lennox, California, home of an acquaintance. Naegle was a former contestant on the E! reality series Bridalplasty.
The acquaintance, Jackie Rogers, is a suspect in the alleged murder and was taken into custody after confessing Naegle's whereabouts to police. Naegle was buried in his backyard, police report. 
Naegle, 36, entered a vehicle with Rogers early Sunday. She was leaving a beer hall where she had been celebrating a friend's birthday party on Saturday night. 
Naegle, who was a registered nurse and a teacher, knew Rogers because he was one of her nursing students, the Associated Press reports.
The Daily Breeze reports that the former reality star had last spoken to her husband, Derek Harryman, at 2:30 a.m. Sunday. Naegle told him she would be heading home after she picked up food. Harryman reported her missing Sunday night after she did not come home and did not respond to his phone calls. He was also informed that she did not show up to teach her class.
The family obtained a surveillance video showing what they believed was Naegle leaving the bar with Rogers. They confronted him with the footage Monday night and contacted authorities shortly after, TMZ reports.