Fireworks Explosion in Mexico City: Video, apparent cause and latest news and updates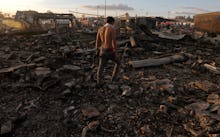 A massive blast at a fireworks market north of Mexico City on Tuesday has killed 31 people and injured at least 72, according to Mexican newspaper El Universal. Local authorities have also reported that 48 people are still missing and three minors are expected to be transferred to Galveston, Texas, to be treated for extreme burns, CNN reported.  
According to El Universal, nearly six explosions occurred in a span of 90 minutes, destroying 300 market booths in the small town of Tultepec. Mexican Attorney General Arely Gómez González's office is investigating any fire and explosive code violations. 
González's counterpart in the State of Mexico, Alejandro Jaime Gómez Sánchez, declared the San Pablito market a "disaster zone." He added that the majority of the victims suffered serious injuries, making it difficult for authorities to identify the deceased. "Every relative finding their loved ones will be subject to DNA testing to verify the delivery of each corpse," Gómez Sánchez told El Universal. 
Video footage captured much of the explosion and its immediate aftermath as thick clouds of smoke billowed out of the area. Witnesses in neighboring towns told CNN that they could feel the ground tremble beneath their feet as when the fireworks ripped through the fireworks market.
Following the tragedy, Mexican President Enrique Peña Nieto wrote on Twitter: "My condolences to the relatives of those who lost their lives in this accident and my wishes for the injured to recover soon."
State of Mexico Gov. Eruviel Avila shared a list with the names of those injured and the locations where they are being treated. 
Tultepec is known for its pyrotechnics industry, and the San Pablo market was known for its fireworks sales. Similar fires damaged the market in September 2005, when a chain of explosions injured dozens of people just before Mexico's Independence Day celebrations, according to BBC News.