'Pokémon Go' Christmas Holiday Event: Gift boxes found in patch notes spark update rumors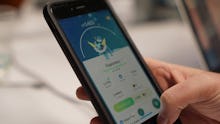 It looks like there may be some sort of Christmas holiday event coming in Pokémon Go, and it's simply a matter of waiting for the reveal. At least that's what players have decided after festive gift box images were spotted in some recent code.
Pokémon Go holiday event reveals thus far have been underwhelming, to say the least. So naturally, when Niantic released a new Android application package — often referred to as an APK — the experts at the Silph Road immediately went data mining to discover whether a better Pokémon Go Christmas event was on the way.
Pokémon Go Christmas event: Android data fuels holiday rumors
Think of an APK as the bridge that allows a server to communicate with your smartphone. If you analyze what kind of data an APK is being patched to receive, new additions suggest what an impending update might look like.
Some APK data mining results reveal updates that surprise no one. For example, the latest Pokémon Go APK contains data that prepares the game for the arrival of an Apple Watch app. Everyone already knows that Pokémon Go is coming to Apple Watch — despite some recent rumors — so that wasn't much of a shock.
Speculative conclusions from data mining an APK, however, should be subject to intense scrutiny. The anticipation over whether or not Niantic is planning a Christmas event for Pokémon Go is what drives the data miners to look for this sort of information. So let's proceed with a healthy dose of skepticism.
Pokémon Go gift boxes reveal possible Christmas event
The data miners discovered code that seems built to support some sort of new, consumable reward in Pokémon Go. The new item exists in two different categories of quality assessment: bronze, silver and gold tiers with special, great and ultra variants, according to Silph Road.
The three types of PokéBalls in Pokémon Go are categorized similarly as regular, great and ultra, which suggests new APK could be used to introduce new items. It's also possible that those bronze, silver gold and distinctions could relate to the game's current medals-based reward system.
That's not much to go on, but a few more clues discovered in the APK suggest the new content is tied to Christmas.
Pokémon Go Christmas event update may come wrapped with a bow
The Silph Road has also posted an image of what is purported to be a new UI icon (i.e. a button to press) in the shape of a Christmas present.
This discovery, along with the word "HasHolidayItems" in a line of Pokémon Go code, suggests an entirely new menu item that leads to content explicitly designed for the holidays. Additionally, a separate image found in the APK depicts a new festive variation of the game's Shop button. Based on all this evidence, it definitely looks like some sort of Christmas update or event is on the way.
Pokémon Go Christmas holiday event: Santa hat Pikachu is all we have for now
Niantic already lowered our expectations on Dec. 12 by introducing just a handful of new baby Pokémon instead of all 100 Gen 2 pocket monsters. The update also included Pikachu in a Santa hat, suggesting that might be the only Christmas update the company had planned.
This may be just as well if it lowers expectations for any kind of Christmas event in Pokémon Go beyond a new loading screen and a Pokémon wearing a special hat. But after this latest data mine we're holding out hope for a bigger holiday event.
More Pokémon Go news, tips and tricks
If you're into data mining Pokémon Go APKs, you may also want to check out Mic's other Pokémon Go content. Here are guides on how to catch Gen 2 baby Pokémon, the 98 Gen 2 Pokémon that have yet to be added to the game, how to catch Pikachu and his adorable new Christmas hat, our analysis of post-update Chansey and Rhydon, everything you need to know about finding the long-awaited Pokémon Ditto, how to create new PokéStops, how to maximize your chances of catching Pokémon and how PokéStops distribute Pokémon eggs.