'Sherlock' Season 4: Premiere date, cast, spoilers and more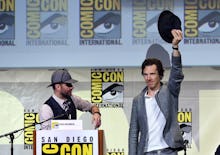 Get ready to solve a new mystery. The hotly anticipated fourth season of Sherlock, the hit series about the titular eccentric detective, will begin Jan. 1 on Masterpiece on PBS at 9 p.m. Eastern.
Based on Sir Arthur Conan Doyle's Sherlock Holmes detective stories, but set in present-day London, the drama stars Benedict Cumberbatch as the unconventional detective Sherlock Holmes, and Martin Freeman as John Watson. 
Since its 2010 premiere, Sherlock has enjoyed critical and commercial success, winning seven Emmy awards in 2014, as well as an Emmy for outstanding television movie in 2016. The second season's premiere garnered 3.2 million viewers, while nearly four million tuned in for the first episode of the third season. 
The season four cast
Along with Cumberbatch and Freeman, the fourth season will feature Toby Jones as villain Culverton Smith, Amanda Abbington as Watson's wife Mary and Mark Gatiss, who is also the co-creator of the show, as Sherlock's brother, Mycroft. 
The season four plot
The fourth season will consist of three 90-minute episodes, with the first bearing the title "The Six Thatchers."
Sherlock has not released any episodes since 2014 other than the 2016 special "The Abominable Bride." The announcement of the fourth season has sparked numerous speculations from its fans. A video streamed at San Diego Comic-Con in July made it clear the new season will be much darker than previous ones, and teased that "everything [the characters] know will be tested." The upcoming season will also include the new story of Watson and his wife adjusting to life with a baby. 
Hints and clues 
At Comic-Con, Sherlock's cast and creators shared three words that teased the upcoming season: "Thatcher," "Sherrinford" and "Smith."  The season has also been teased with an image of the detective's violin, bearing a broken string. 
Fans have developed some intricate theories about the show, with possible plots that reference Doyle's original stories, including a faked death and a criminal destroying artwork about Napoleon. However, Gatiss has said some "blindingly obvious" clues have been missed. 
The final episode of the fourth season, titled, "Sherlock: The Final Problem," will air in select movie theaters for two nights, Jan. 16 and Jan. 18.