YouTuber Adam Saleh allegedly removed from Delta flight for speaking Arabic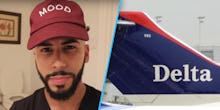 YouTube personality Adam Saleh was kicked off a Delta Airlines flight on Wednesday morning, allegedly for speaking Arabic on the phone to his mother. 
Saleh, a Yemeni-American, tweeted a video he recorded of being escorted off Delta Airlines Flight 1 at London's Heathrow Airport with his friend Slim Albaher. The video shows a number of passengers waving goodbye to Saleh.
"I spoke a word and you said you feel uncomfortable," Saleh said, speaking to passengers on the plane. "Why are you guys doing that? Just because I spoke a different language?"
Delta Airlines has confirmed that two passengers were escorted off the plane Wednesday morning after 20 passengers said they were uncomfortable. Delta also said a full investigation of the incident is underway.
"Two customers were removed from this flight and later rebooked after a disturbance in the cabin resulted in more than 20 customers expressing their discomfort," Delta spokesman Morgan Durrant said in an email. "We're conducting a full review to understand what transpired. We are taking allegations of discrimination very seriously; our culture requires treating others with respect.
In the video, Saleh said it was "six white people against bearded men."
According to Saleh, Delta Airlines brought police officers to speak with him and Albaher.
Many on social media called for a boycott of Delta Airlines following the incident with the hashtag #BoycottDelta.
This is certainly not the first time Delta Airlines has found itself at the center of controversy in 2016. On Nov. 28, Delta Airlines issued a lifetime ban against a Donald Trump supporter after he verbally abused passengers on a flight. The airline faced scrutiny for its initial handling of the incident, in which they let the passenger back on the plane after his rant. A month prior, a man nearly died on a Delta Airlines flight when a flight attendant refused to believe a black woman was a doctor. 
Saleh has also been under scrutiny in the past for his conduct. He has posted videos of pranks on his YouTube channel that has 2 million subscribers. On Dec. 13, Saleh posted a video in which he allegedly stuffed himself into a suitcase to be smuggled onto a TigerAir flight from Melbourne to Sydney, Australia. In the video, Saleh said he heard that airline carriers do not search checked baggage and wanted to put his prank to the test. The video ends with Saleh's two friends picking him up from the baggage carousel. TigerAir, however, has publicly stated that the prank is fake.
"Tigerair Australia has a zero tolerance for inappropriate behavior and has investigated this matter as a priority," a TigerAir media representative told Sun Online. "We can confirm that the footage is not genuine and we have requested that the footage be removed as a consequence."
In October 2014, Saleh faced scrutiny once again for uploading a hoax video. The viral video in question was of Saleh and his friend Sheikh Akbar, in traditional Islamic dress, walking around New York City and being subjected to the New York Police Department's stop-and-frisk procedure. Initially, the duo said the officer in the video was a real NYPD officer. After the NYPD stated the stunt was fake, the YouTubers uploaded another video apologizing for staging the video. They said their intention was to bring awareness to racial profiling. 
Saleh has not yet responded to Mic's request for comment.
Several airline carriers have recently come under fire for reports of discrimination against Muslims and those who are perceived to be Muslim. In fact, even international Muslim celebrities ranging from Rogue One's Riz Ahmed to Bollywood sensation Shah Rukh Khan have been subjected to racial profiling and discrimination simply for #FlyingWhileMuslim.
On July 26, a Muslim couple was kicked off a Delta Airlines flight headed to Cincinnati, Ohio, from Paris for speaking Arabic. On Aug. 3, two Muslim women were ejected from an American Airlines flight after asking for a glass because a flight attendant said she felt uncomfortable with them on the plane. In the same month, three Muslim siblings were also removed from an Easyjet flight in London for texting in Arabic. In December 2015, an American Airlines flight attendant taunted a Muslim man over the plane's intercom; the attendant called his name, over the intercom, and said "I will be watching you." After she reportedly made several other comments, the flight attendant said she felt "uncomfortable" with him on board and the man was subsequently removed from the plane. 
Also, earlier this month, a Swiss International Air Lines executive told an audience at a border security conference that airline carriers could potentially profile and screen Muslim passengers based on the in-flight meals they preorder.