Android Nougat 7.0 update: When will it be available for your device?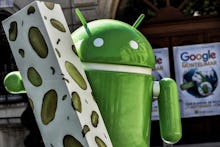 The seventh version of the Android operating system, the Android Nougat, was released in 2016 with upgrades scattered throughout the year. The Android Nougat offers users an array of updates, including 72 new emojis, quick-switch features allowing a more streamlined way to move between apps, a multi-window view feature and a smarter battery. Mere months after releasing the final version of Android 7.0, Google released Android 7.1.1 — an update to Nougat that promises to bring "many of the cool features of Pixel to everyone."
Android Nougat 7.0: Samsung
According to the Sunday Express, Samsung released its fourth Android Nougat update for Galaxy X7 and Galaxy S7 Edge owners already signed up for its Galaxy Beta Program, suggesting an official release is on the horizon. In November, the South Korean company rolled out Nougat beta for users living in the United States, United Kingdom and South Korea with active Samsung Accounts and either the Galaxy Beta Program app or the Samsung Members app. Access to the beta operating system is currently closed, but existing members of the Galaxy Beta program can check out the new update, which comes with bug improvements, via the Galaxy app.
Android Nougat 7.0: LG
In November, LG announced the availability of the Android 7.0 Nougat update for G5 users in South Korea, followed by a release in the Americas and Asia. A month later, G5 owners in Canada can also receive the Android 7.0 Nougat update, Android Authority reports.
Android Nougat 7.0: Motorola
Motorola announced in October which devices would be receiving the Android 7.0 Nougat update. The list includes: Moto G (4th Gen), Moto G Plus (4th Gen), Moto G Play (4th Gen), Moto X Pure Edition (3rd Gen), Moto X Style, Moto X Play, Moto X Force, Droid Turbo 2, Droid Maxx 2, Moto Z, Moto Z Droid, Moto Z Force Droid, Moto Z Play, Moto Z Play Droid and Nexus 6.
Exact release dates for these units vary depending on factors like country and carrier — the Moto Z reportedly received the update Dec. 20 — but the company will be posting updates here. The update will make the smartphones Daydream-compatible, reports Engadget, making them the first smartphones aside from Google's Pixel and Pixel XL ready for Google's $79 VR headset.
Android Nougat 7.0: Nexus
Nexus received the Android update at the end of August. Those who own Nexus 6P, Nexus 5X and Nexus 6 phones — in addition to the Nexus 9 and Pixel C tablets — could begin the new operating system and its many features. The second developer preview of software was reportedly made available in November for the Nexus 6P, Nexus 5X, Pixel C and Nexus 9.
On Dec. 5, Android 7.1.1 became available for Nexus 6, Nexus 5X, Nexus 6P, Nexus 9, Pixel, Pixel XL, Nexus Player, Pixel C and General Mobile 4G (Android One), TechCrunch reports.