Netflix's Twitter hacked by OurMine — here's everything we know so far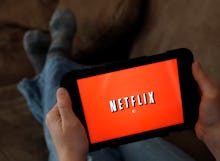 A hacking collective known to infiltrate social media accounts of the tech elite has a fresh new target: our beloved Netflix.
OurMine, a three-person hacking collective, sent a tweet from the Netflix U.S. account on Wednesday morning stating: "Hey, it's OurMine, Don't worry we are just testing your security, contact us to tell you more about that" along with an email to reach out to. The tweet has since been deleted. (They also appear to have liked one tweet.)
The Netflix customer service Twitter account has been fielding tweets over the last hour, informing users that "We're aware of the situation and are working to get it resolved as quickly as possible." 
When Mic asked OurMine in an email, why Netflix? They responded, "Because their security is too bad."
The team, which deems itself a White Hat elite hacker group with "no bad intentions" on its website, is now selling its security services online — from $10 to scan an email address up to $5,000 to check a corporate network's security.
As for other security vulnerabilities found within Netflix beyond the Twitter account, OurMine said that they hadn't yet discovered any.
OurMine's attacks have historically been an unsettling wake-up call, but rather benign in execution. The hackers now brand themselves as a "security group," Mic previously reported, and have gotten into the accounts of Spotify CEO and founder Daniel Ek, Facebook CEO Mark Zuckerberg, Deadmau5, David Guetta, former Twitter CEOs Dick Costolo and Ev Williams and YouTubers Pewdiepie and Markiplier. The team has also hacked Channing Tatum's social media account, posting a song to the tune of Ariana Grande's "One Last Time" with lyrics inspired by information security. Bangin'. 
In response to what type of message the hackers were hoping to send Netflix and to its users, OurMine said that Netflix "should upgrade their security, it was really easy to hack."
Following the Netflix hack, the OurMine team cracked into the Twitter account of Marvel Entertainment on Wednesday afternoon, along with a number of associated accounts of fictional characters from the Marvel universe. OurMine also hacked the NFL Network Twitter account. The tweets pointed to the hacker team's website and signaled that it was simply a security check. When Mic asked the OurMine team how it chose its targets, they said it was "random." 
Dec. 21, 2016, 2:50 p.m.: This story has been updated.