'Fences' movie: Trailer, cast and more for the 2017 Oscar hopeful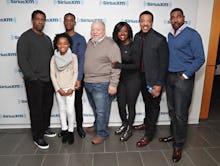 Oscar buzz around Fences has made it one of the most highly anticipated films of the year. With an all-star cast, the movie based on the original 1983 play by the late Pulitzer-Prize winning August Wilson is coming to theaters Christmas Day. 
The Fences cast 
Two-time Oscar winner Denzel Washington and Emmy Award-winning actress Viola Davis star in the film and received Golden Globe nominations for their performances. Washington plays Troy Maxson and Davis portrays his wife, Rose Maxson. 
Washington also directs the film, which is the first of 10 Wilson plays the actor announced he would be producing for HBO. 
Prior to the film adaptation, Washington and Davis originated their roles in the play's 2010 revival. Davis has a history of working with the late Wilson, making her Broadway debut in 1996 as Vera in the playwright's Seven Guitars. She won her first Tony Award in 2001 for her role in King Hedley II, another Wilson play.
Plot
The movie is set in the 1950s and follows a family living in Pittsburgh, Pennsylvania. The protagonist, Troy Maxson, is a former Negro League baseball player who now works as a garbage collector. 
Throughout his life, Maxson faced racial discrimination and continues to grapple with those burdens as he raises his family. When his son, Cory, reveals he has athletic aspirations, Maxson tries to protect him from experiencing the same kind of backlash.
From the looks of the trailer and the film's rave reviews by critics — particularly Davis' performance — it seems Fences may be one of those movies you shouldn't miss out on this holiday season. The movie is currently available in select theaters and is scheduled for wide release Dec. 25.