Kentucky woman berates Latina shopper: "Go back wherever the fuck you come from"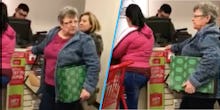 No one likes waiting in line while doing last-minute Christmas shopping, but this woman took it too far. 
In a video posted on Tuesday that has since gone viral, a woman in a Louisville, Kentucky, JCPenney berates a Latina woman who was paying for her things, apparently because her friend added a few shirts to the purchase during the transaction. 
"I had to get back on FB, to expose this racism in America/Louisville," Facebook user Renee Buckner, who posted the video, wrote. "If we ignore it, it will never go away." 
The woman in the video begins by telling one of the women at the cashier that the line "starts back there." The woman is visibly upset, believing she's been cut in line, and then tells the woman, "Go back to wherever the fuck you come from, lady." 
After a cashier tells her to watch her language, she continues. The woman she's berating does not address her. 
"Just because you come from another country, it doesn't make you nobody," the ranting woman says. 
She then accuses the women of being on welfare. "The taxpayers probably paid for all that stuff," she says. When other people snicker at what the lady says, she turns around and says, "It's true! We probably paid for every bit of that stuff, you know that? Probably all of the food they get and everything else." 
Since being shared on Tuesday night, the clip has been viewed over 4 million times and garnered over 100,000 shares. 
Jefferson Mall, where the incident took place, issued a statement on their Facebook page. 
"We will work with JCPenney to identify this woman and once identified, she will be permanently banned from Jefferson Mall," the post reads. 
In a statement, JCPenney said it was "deeply disturbed" by the incident. 
"We regret that innocent bystanders – both other customers and a JCPenney associate – were subjected to such discriminatory remarks," the statement reads. " We absolutely do not tolerate this behavior in our stores, and are working with our associates to ensure any future incidents of this nature will be addressed quickly and appropriately." 
JCPenney said it is asking the community for help identifying the two women being harassed in the video. The company wants to reimburse them for their purchase and offer an apology.  
Though the woman yells throughout the whole video, the loudest part of the video is the silence from the other customers on the video. At no point does anyone come out to denounce the ranting woman or speak out for the woman trying to pay for her purchase. 
However, according to Buckner, "this wasn't the entire scene." 
"People tried to let her know it was out of order," she wrote. "But she wasn't hearing that."