The BAFTAs have new diversity rules. Would any Oscar movies pass?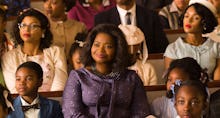 Awards season got a dash of excitement added to the mix when the British Oscars, the BAFTAs, announced new rules taking effect in 2019. The new diversity initiative requires that potential nominees for the BAFTAs demonstrate representation of all different kinds of talent. To do this, filmmakers can include in their work:
• On-screen representation, themes and narratives
But how would recent and likely future Oscar nominees for best picture fare using these criteria? In the era of #OscarsSoWhite, would any of these movies be eligible for BAFTAs attention under these new rules? We decided to look for ourselves.
The second through fourth criteria are somewhat invisible to non-industry folk, and just vaguely defined enough that you can imagine something like La La Land (which features people of color in supporting roles, but is still exceedingly white) getting a pass. So, in truth, this rule is likely meant to punish only the most egregious offenders. For purposes of this exercise, however, we're considering the first criterion: "on-screen representation, themes and narratives." 
Of last year's eight best picture nominees, two include significant (i.e. more than one scene) supporting characters of color: The Martian and Mad Max: Fury Road. Two more, The Big Short and The Revenant, had minor characters of color with sizable scenes. However, the narratives of all four center on the path and progress of their white protagonists. The other four — Brooklyn, Spotlight, Room and Bridge of Spies — feature almost entirely white casts.
The fact that not a single one of the eight best picture nominees features a protagonist of color is unsurprising — especially considering it was the second year of #OscarsSoWhite. 
This year, though, with its substantially more diverse pool of potential nominees, should pass this test with flying colors, right?
Instead of predicting Oscar noms ourselves, We decided to look at the 14 movies named by Oscar prediction group Gurus of Gold as the most likely best picture finalists. 
Five of these 14 films feature nonwhite protagonists: Fences, Hidden Figures, Lion, Loving and Moonlight. (Two of those were helmed by nonwhite directors: Fences and Moonlight.) Among the remaining nine, four — Silence, Arrival, Hell or High Water and La La Land — feature people of color in major supporting roles. In the other five — Manchester by the Sea, Jackie, Hacksaw Ridge, Sully and Captain Fantastic — white cast members predominated.
So that's 36% of this year's likely best picture Oscar nominees boasting protagonists of color, as opposed to none in 2015. That's a massive improvement — but the fact remains that 42% might not even qualify under BAFTA's new rules.
BAFTA's guidelines for this initiative look fairly loose. But that's not necessarily a bad thing. Yes, the flexibility could and probably will be used to give less inclusive movies a pass — it's hard to imagine Manchester by the Sea not skating by this year — but it also gives the awards body room to be more interpretive. 
For example, Jackie includes fewer people of color on-screen than Hell or High Water, but was made by Chilean director Pablo Larraín. Meanwhile, Hell or High Water has a main character, Texas Ranger Marcus Hamilton (as played by Jeff Bridges), who regularly spouts racist rhetoric at his partner (played by Comanche actor Gil Birmingham). 
Already, there's plenty of questions to consider: Does Larraín's direction of Jackie, a historical biopic about a white woman, make it qualify? Does Hamilton's constant undermining of his partner — who, spoiler, gets killed — violate the spirit of the new rules?
Think back to last year and imagine the Oscars used the BAFTAs rules. Almost certainly, The Martian, Mad Max: Fury Road and The Revenant would qualify, with The Big Short as a question-mark. Brooklyn, Bridge of Spies and Spotlight are all historical pictures; should they be left out because they told stories about exclusively white people?
Spotlight was the winner that year, and had passionate fans. On one hand, the actors were playing real-life characters, with the actors' racial backgrounds matching those of their counterparts. On the other hand, why did all of the characters have to be played by actors of the exact same race as in the real world? Ben Affleck infamously cast himself as the hero in Argo, the best picture winner from 2012, despite the real-life version of his character being of at least partial Latino descent. 
How radically would Spotlight's story change if Michael Rezendes were played by Michael Peña instead of Mark Ruffalo? Would such cursory inclusion — a nonwhite actor playing a white figure — really add anything to the movie? Furthermore, would the films inclusion of Japanese cinematographer Masanobu Takayanagi behind the camera have been enough?
This isn't a clean or clear decision, as it rarely is when it comes to such rulings. What's frustrating is how quickly this becomes about splitting hairs. That's not in the spirit of BAFTA's initiative. The idea is to push movie studios to do better, not parse whether existing efforts might qualify.
To make a long experiment short: Yes, the Oscars are likely to award far more inclusive films this year, many of which would qualify under BAFTA's new rules. Yet if the academy were to institute any such initiative, the key would not be to focus on the minutiae, but on progress. A 36% pass rate is a drastic improvement over zero, but it's just a start. For real progress, we'll need more Moonlights, more Lovings and more Hidden Figures. Film studios need to change the way they think. Perhaps more awards bodies taking a hard line about representation is what it will take to affect change.