'Civ 6' Winter Update Patch Notes: Poland, Jadwiga, Vikings, new features and more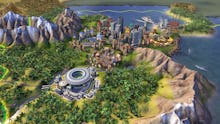 Gaming's greatest thief of free time is back with even more new free and paid content. Civ 6's winter update is out now. The patch brings a slew of bug fixes, gameplay tweaks and even new civs like Poland and other features if you're willing to shell out a little bit of cash.
Given how many hours you can get out of even one or two new features in Civ 6, we're guessing it's worth the price. You can read full update details on the Civ 6 blog, but we've already parsed out the important stuff for you. Here's what's coming to the game in the winter update.
Civ 6 Winter Update: Poland is a powerful new civ
The most substantial new addition to Civ 6 is a new playable civilization in Poland, led by Jadwiga. The first female Polish monarch, Jadwiga is described in-game as a "champion of Catholicism" by developer Firaxis. She has a special ability to spread religion to a nearby city when claiming someone else's territory, meaning fans of religious victory might gravitate towards Poland.
Poland can be had for $4.99, with the update also adding a new "Jadwiga's Legacy" scenario. The scenario has a 60-turn limit and tasks the player with defending Poland, Prague and Vienna from invaders.
Civ 6 Winter Update: Vikings!
For another $4.99, you can buy the Vikings Scenario Pack. The seemingly enormous scenario pack contains a litany of new content for players to enjoy.
It brings six new city-states, including Granada and Auckland, as well as three new natural wonders, including the Giant's Causeway. It also adds a new 100-turn scenario where you can play as Denmark, Sweden or Norway and invade England, Paris and more with your military might.
Civ 6 Winter Update: Plenty of free tweaks
As with any large update, you don't need to pay anything to get access to a great deal of it. The Civilization VI winter update brings a ton of free additions and gameplay changes alongside the new paid content.
There's a new standard-sized Earth map to play on, as well as a new ability for units: "Alert." Alert puts a unit to sleep until they spot an enemy unit, similar to the "Overwatch" ability in X-COM. There is also a new menu that allows you to more easily jump into Scenarios from the single-player menu and a new replay option for Wonder completion movies.
Lastly, there's a huge list of small balance changes, which you can read here.
More Civ 6 tips, tricks and news
Need some help conquering the world in Civ 6? Check out Mic's semi-definitive ranking of all the civilizations, our review of the game, our guide to districts and a rundown of all the possible military victories.