Newport Marijuana Cigarettes: Are they real or a hoax?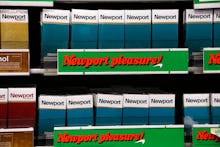 With the legalization of cannabis spreading to several new states after the November elections, it seems like a matter of time before mass-produced marijuana cigarettes hit the market. One company, Cranfords, has already began selling the product throughout Colorado. Now is the hugely popular Newport is getting in on the action?
Website TMZWorldNews (formerly CelebtriCity) broke "news" of Newport's alleged plans to sell marijuana cigarettes, called "Newport Nirvana." A passage from the piece reads: 
Reynolds American Inc. chief marketing executive, Lawrence Harrison, said in an interview that the company has been ecstatic on the idea of marketing cannabis, and has been monitoring the market for some time. It was only when the recent legalization initiatives — winning in Colorado and Washington — that the company finally made the decision to take part in the cannabis market.
Sounds legit, but the article is actually yet another example of fake news that's plaguing the internet. Fact-checking site Snopes debunked the story earlier in December. "Like its fellow outlets (TMZWorldStar, TMZUncut, TMZBreaking), TMZWorldNews is a fake news site appropriating the name of popular gossip site TMZ," the fact-check reads. "None included a disclaimer warning readers its content consisted entirely of falsehoods."
Snopes went on to list several instances of fabrications published by the fake news sources above, including a nonexistent study claiming that 80% of black men in Atlanta were gay and an alleged penile implant that can alert women to cheating romantic partners. Truly outlandish stuff. 
Fake news is a growing problem that actualized throughout the 2016 election. When reading content on the internet, always consider the source publishing it, read beyond the headline and do a quick search online if anything seems fishy or too good to be true.