'Overwatch' update: Tracer's girlfriend draws mixed reactions online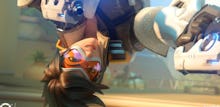 Blizzard dropped a bombshell Tuesday, revealing Tracer as Overwatch's first LGBTQ character. Almost a day later, the internet is still reacting to the news with a mix of excitement and confusion. There are some haters out there, of course, but the overall vibe is one of positive celebration.
Here's a quick look at how fans responded, starting with a clever recap of "Reflections," the Overwatch comic featuring the big reveal.
Jokes aside, I love this post from coryinc on Tumblr — it's a straightforward explanation for why the decision to reveal Tracer as LGBTQ is such a big deal.
Other players seemed to be missing the point somewhat, arguing the news wouldn't have any actual impact on the game.
Some Overwatch players did speak out against the reveal, even trying to deny the girl kissing Tracer was actually her girlfriend — but fans were quick to shoot them down.
"My waifu Tracer is dead" became a trending query on Google Wednesday.
Finally, one Overwatch fan put together a pretty amazing satire of "Reflections," modifying the story to meet Russia's heteronormative standards after Blizzard pre-emptively blocked the comic there.
Yup, that's Putin subbing in for Tracer's girlfriend. Check out the full parody over on Imgur.
More Overwatch news and updates
For more on Overwatch, read Blizzard's response to the outcry over Mei's winter skin, read up on the latest rumors of a Terry Crews-voiced Overwatch character, check out all the updates in patch 2.01, read the fandom's reactions to that Zenyatta Nutcracker skin, uncover the hidden details in the Winter Wonderland event and check out all the other unlockable goodies you can earn for Overwatch's other characters.