Can you see who looked at your Snapchats? Here's everything you need to know.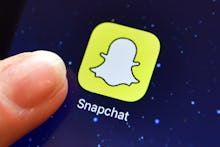 As of June 2016, Snapchat boasts 150 million active daily users. The app, which was initially used to send photo and video clips that self-destruct after viewing, thrives on the promise that content shared on the platform is fleeting. It's important to know who is viewing your snaps, whether they're private snaps or ones shared in your Snapchat Story. Below are a few pointers.
Snapchat Stories provide a full list of viewers
There is no way to anonymously view a Snapchat Story, that is, the snaps that are posted to a user's profile. As such, getting a complete list of who's viewed your story is easy. Check the "Stories" page and select "My Story." Here, each snap will play and at the bottom there will be an upward facing arrow. Selecting the arrow will pull up a series of icons. The leftmost eye icon shows the number of views, and the overlaying arrows icon to its right reveals the number of times the snap has had a screenshot taken. Below the eye icon will be a list of all the users that have viewed the snap.
Private snaps have time stamps
Private snaps are sent to select people, so the identity of who viewed the snap is no secret. Unless someone's account has been hacked, the viewer is more than likely the recipient. There is a simple way to know when someone has opened your snap: Check the "Chat" page and look at the icons on the left — if they are solid-colored, then the chat has not been opened. Snapchat also tells users what time the snap was delivered and what time it was opened in light gray letters under the recipient's name.
Know when a user has replayed a private snap
Users have the option to replay a snap. If you want to know who took a second look at your snap, then remember that Snapchat alerts you when someone has replayed it. When on the "Chat" page, a circular icon with an arrow will be next to the name with text along the lines of "Replayed just now."
Snap messages have time stamps as well
In addition to photo and video messaging, Snapchat supports text messages. These messages disappear once they're opened, unless users swipe right to save the message. Similar to private snaps, a user can see who has opened the message by checking when the message was opened and keeping an eye out for the solid or hollow icons. 
Users are notified of screenshots
Snapchat alerts a user when anyone takes a screenshot of a snap or a message thread. Depending on a device's notification settings, an alert will pop up on the main screen and within the chat page between users as well, with an icon and text under the user's name along the lines of: "Screenshot just now." Screenshot alerts are indicative of who has potentially captured an image of a snap and also who has seen a given snap.