'Harry Potter' author JK Rowling will not write a 'Fantastic Beasts' sequel novel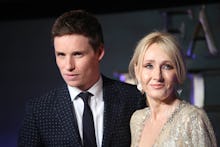 It may be hard to believe, but it has been nearly a decade since the release of J.K. Rowling's Harry Potter and the Deathly Hallows. Of course, the author's wizarding world has lived on through eight theatrical Harry Potter films, a West End stage play Harry Potter and the Cursed Child, several short stories,  theme parks and the recently released Fantastic Beasts and Where to Find Them, which was written by Rowling in her screenwriting debut. 
Now, it appears that Rowling is hard at work on a new novel (two to be exact). However, before you get your hopes up, it is not known whether any of them will be set in the world of Harry Potter. 
Rowling, who is extremely responsive to fans on Twitter, was recently asked on the social platform whether she will be releasing a new novel. Her response? You better believe it. 
This, of course, led to immediate speculation that Rowling could be writing a Harry Potter prequel featuring Fantastic Beasts' Newt Scamander, played in the film by Academy Award winner Eddie Redmayne. Well, Rowling was quick to shut down that rumor. 
Fans should not be too bummed, though, as Fantastic Beasts and Where to Find Them is set to spawn four sequels, all written by J.K. Rowling. 
What will J.K. Rowling's novels be about?
While virtually everyone knows J.K. Rowling as the creator of the Harry Potter franchise, less are aware of another series penned by the writer. This is because she does not write the series under the J.K. Rowling name. Using the pen name Robert Galbraith, Rowling has written three crime novels featuring private investigator Cormoran Strike: The Cuckoo's Calling (2013), The Silkworm (2014) and Career of Evil (2015).
Following Rowling's announcement on Twitter that she was working on a new novel, another user asked whether it will be penned by J.K. Rowling or Robert Galbraith. As it turns out, she will be writing one of each. 
While the Robert Galbraith novel will likely be a continuation of the Cormoran Strike series, the J.K. Rowling penned book is a mystery. While Rowling has noted in the past that she would likely not be writing additional Harry Potter novels, there is no ironclad contract binding her to those statements. 
After all, fans likely thought Harry Potter and the Deathly Hallows was going to be the last of the wizarding world, but one stage play and five planned films later, we know this not to be true. 
While we likely can take Rowling's word that there will be no Newt Scamander novels, the wizarding world is so large that there is no shortage of stories to tell — she released three eBooks in September via here website, Pottermore. So, there is hope. 
Mic has ongoing coverage of both Harry Potter and Fantastic Beasts and Where to Find Them. Please follow our main Harry Potter and Fantastic Beasts hubs.