Bar sells $15 40-oz Colt 45 in a brown paper bag — so it has some explaining to do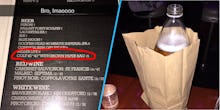 It's often the drink of choice for people with very little pocket money — but now it'll cost you the price of a pretentious cocktail. 
A California bar is offering a 40-oz. Colt 45 complete with a brown paper bag for $15. Earlier this week, one Twitter user shared a photo of the audacious beverage option. The tweet caused such an outrage that it's since gone viral, earning more than 21,000 retweets. 
"Dawg, gentrification at its finest. Wow!!" the caption accompanying the tweet reads. 
Several other Twitter users shared a similar reaction to the beer's price tag and presentation:
While food appropriation is nothing new — this year alone, Vietnamese pho and the iconic New York chopped cheese sandwich have fallen prey to the phenomenon — this one conjures images of structural issues like urban poverty, alcoholism and more. However, the owner of St. Felix, the Hollywood bar offering the pricey Colt 45, told Mic that's not the case. 
"That was jut the way people drank cheap alcohol, like we did when we were kids," John Arakaki said in a phone interview. "And I used to say when I opened up a bar, I'll serve drinks like this." 
Arakaki said they began carrying the item eight years ago and that this is the first time he's ever heard any negative feedback about it. For him, it's all about memories of the good ole days. 
"It's just kind of a nostalgic thing because you'd go to shows and if you had a drink before you went inside, you had to cover it up in the parking lot," he said. "This is the funny hook about it — one person buys it then other people buy it. They can't believe that they're drinking a 40 ounce!" 
That fun, nostalgic memory does come with a somewhat hefty price tag. As most people mention in their tweets, the average cost of a 40-oz. beer is probably closer to $4 than $15. And you can't blame the paper bag for the over-400% increase in price. 
"The intention [of the price] wasn't to gouge the customer at all," Arakaki said of the beer, which is offered alongside $8 IPAs and $7 Blue Moons . " [It's] 40oz of alcohol so that's three 12 ounce beers and 4 extra ounces. That's a huge presentation and that's more than enough for one consumer in an evening." 
In this case, one person's nostalgic memory may inadvertently poke fun at other people's drinking habits — and that may not be a memory worth sharing.