'Fargo' season 3: Everything we know so far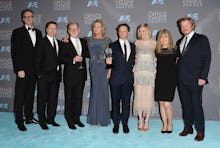 Fargo, the black-comedy series inspired by the film of the same name, has announced the cast for its third season. Jim Gaffigan, David Thewlis, Michael Stuhlbarg, Fred Melamed, Karan Soni, Thomas Mann and Scoot McNairy have joined the cast of the FX show. They join the previously announced actors Ewan McGregor, Mary Elizabeth Winstead and Carrie Coon. 
The characters
Fargo marks a new career move for McGregor, who will play the dual roles of Emmit and Ray Stussy in his first regular role on a television series. Emmit and Ray are two different roles, as one is quite successful and the other is shiftless. Stuhlbarg will play Sy Feltz, Emmit's right-hand man. Gaffigan will portray a deputy at the police department alongside local police Chief Gloria Burgle, played by Coon. Meeker County Police Chief Moe Dammick will be played by Whigham, and Thewlis will portray V.M. Vargas, an outlaw. 
Mary Elizabeth Winstead's character will be Nikki Swango, a parolee, and McNairy will play Maurice LeFay, a man with a criminal past. Soni will play Dr. Homer Gilruth, a scientist; Melamed will play Howard Zimmerman and Mann will be science fiction author Thaddeus Mobley. 
When will it premiere? 
The third season will begin shooting in Calgary, Canada, in January, with a debut scheduled for later that year. 
Inspired by the 1996 film written and directed by Joel and Ethan Coen, Fargo's three seasons have followed the format of an anthology, with a different cast and characters each season. The film followed a Minnesota police chief, played by Frances McDormand, as she investigates crimes in her town. The film won two Academy Awards: for screenwriting and for best actress for McDormand.
The show, which premiered April 15, 2014, was created by Noah Hawley. The Coen brothers serve as executive producers.
Fargo seasons one and two earned numerous Golden Globe nominations, and in 2015 Billy Bob Thornton won best performance by an actor in a miniseries or motion picture made for television. The series also received several Emmy nominations, winning outstanding cinematography for a limited series or movie and outstanding sound editing for a limited series, movie or special. Season one was recognized with Emmys for outstanding miniseries, outstanding casting for a miniseries, movie or a special and outstanding directing for a miniseries, movie or a dramatic special.  
The American Film Institute named Fargo one of its television program of the year in 2015. 
Mic has ongoing TV coverage. Please follow our main TV hub.