'Live By Night' reviews: How are critics responding to Ben Affleck's directorial effort?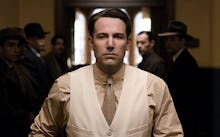 Live By Night star Ben Affleck has been in the Hollywood game for quite some time. In the early '90s he was a mainstay in Kevin Smith's cult films, while Good Will Hunting, a film that earned Affleck an Academy Award as a writer, brought him to the mainstream. Affleck's career hit a few snags in the early 2000s, but he has returned in a big way, not only as an actor, but as a director as well. 
To date, Ben Affleck has directed three films: Gone Baby Gone, The Town and Argo. Incredibly, those films have all earned Rotten Tomatoes scores of 94% or better. Argo earned the director his second Academy Award (for best picture), though he was oddly not nominated for his directorial effort. However, he did win best director from the Directors Guild of America for the film. 
Ben Affleck's next film as a director is the soon-to-be released Live By Night, which he also produced, wrote and stars in. The film, which is based off Dennis Lehane's novel of the same name, was largely expected to be another critical darling. Not only has Ben Affleck never missed as a director, but Warner Bros. decided to give the film an awards friendly Dec. 25 release date. 
Well, reviews for the film are starting to trickle in, and shockingly, they are largely negative. That's not to say there weren't any positive reactions. Check out excerpts from a few of the more friendly reviews below:
Tomris Laffly, Time Out: 
Watching this crowded field of intriguing players makes you wonder whether an episodic structure à la 'Boardwalk Empire' would have served the material better. Still, there's a lot of cinema to admire here. And being reminded of the directorial talents of Affleck—undeniably a more accomplished filmmaker than an actor—is no minor event.
Jim Vejvoda, IGN Movies: 
Director-star Ben Affleck's 'Live by Night' boasts impeccable casting, period recreation, action set-pieces, and cinematography, but it's marred by a disjointed narrative and some choppy pacing. It meanders, short-shrifts several key characters and subplots, and simply has too many things to juggle in two-plus hours.
Daniel Eagan, Film Journal International: 
Ben Affleck ends up with an old-fashioned, unexpectedly satisfying crime drama that reworks gangster clichés to mostly good effect. With an outstanding supporting cast and extravagant production design by Jess Gonchor, 'Live by Night' could find an appreciative audience worn out by sci-fi and superheroes.
Unfortunately, at this early stage, that is where the positive reviews stop. With only 11 reviews counted on Rotten Tomatoes (as of this writing), the tide could certainly change. If, however, you are to believe the excerpts from some of the negative reviews below, Live By Night just may end up being a rare miss by Ben Affleck as a director. 
David Rooney, The Hollywood Reporter: 
But while Affleck aims for the Coppola tradition of operatic bloodbaths, the execution falls short, unfolding with the same rote efficiency as an earlier Boston cops-and-robbers chase or Joe's series of retaliatory strikes against the KKK. Flavorless characterizations from Glenister and Girone as the rival Mob kingpins don't help.
Owen Gleiberman, Variety: 
Ben Affleck's fourth film as a director has many of the virtues of his others, yet this Prohibition crime saga doesn't zing. Maybe because Affleck plays a ruthless gangster who is also a good guy.
Alonso Duralde, TheWrap: 
Affleck has an onscreen rapport with young Fanning that's sorely lacking in his encounters with both Miller and Saldana, and without a relationship to care about, the audience is left with 1920s mobsters jockeying for power. 'Live by Night' brings little new to this well-trod ground, despite the best efforts of reliable co-stars like Cooper and the scene-stealing Maher.
Stephen Whitty, New York Daily News: 
A slow, stubbornly serious period picture, it's Ben Affleck's attempt to bring back the old Warner Bros. gangster films, with him stepping in for Jimmy Cagney. It's got Prohibition and speakeasies, flappers and Tommy guns ... It still shoots blanks.
Live By Night opens in limited release Christmas Day, before opening wide on Jan. 13.