Hulu Christmas movies 2016: Your guide to the streaming service's best holiday movies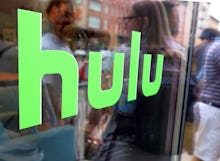 Hulu is streaming dozens of holiday movies this year. If you're planning to watch a marathon of Christmas movies, you can begin playing them on the streaming site right now. 
Hulu offers an array of Christmas flicks to place on your watch list. Get some nostalgia watching classic films like Tim Burton's The Nightmare Before Christmas, and find new discoveries like Christmas Crush.   
You can watch Christmas movies on Hulu by signing up for a one-week free trial. The monthly subscription for Hulu costs $7.99 per month. There is an extra $4.00-per-month fee to enjoy Hulu commercial-free.
Here is a roundup of some of the best Hulu Christmas movies streaming this holiday season.
The Nightmare Before Christmas (1993)
A Merry Friggin Christmas (2014)
Christmas Crush (2012)
Christmas Belle (2013)
A Christmas Wish (2011)
Love at the Christmas Table (2012)
A Snow Globe Christmas (2013)
The Christmas Card (2006) 
Dear Santa (2011)
Beyond Christmas (1940)