Zach Braff says he would be open to a 'Gilmore Girls'-style 'Scrubs' reunion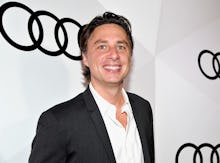 Could Scrubs be making a comeback? 
Streaming platforms like Netflix has established a precedent of introducing older shows to new audiences, in some cases leading to revivals. Full House, which ran from 1987 to 1995, has returned on Netflix as Fuller House, while Gilmore Girls recently joined the streaming service as Gilmore Girls: A Year in the Life. These types of revivals will continuously prompt the same question: What's next?  
Zach Braff, who starred as John "J.D." Dorian on Scrubs for nine seasons, recently took part in an IMDB Twitter Q&A where he was asked whether he would ever consider making more episodes of the hit medical sitcom. 
"You never know about making more Scubs episodes," the actor responded. "It's something we all talk about, especially now that all these people are going back and doing Netflix versions of their shows. I am very jealous of all this Gilmore Girls attention and Full House. We talk about it every now and then. So you never know, it could happen. I'd do it."
For eight seasons (let's ignore the ninth), Scrubs was a hilarious — albeit often dramatic — look into the lives of doctors. Scrubs was popular among fans for its use of flashbacks, dream sequences and the extremely close friendship between its main characters, J.D. and Chris Turk. 
The series starred Zach Braff, Donald Faison and Sarah Chalke as hospital interns who, as the series progressed, went on to become residents and attending physicians. Scrubs also starred John C. McGinley as Dr. Perry Cox, who delivered some of the best rants in television history on the show. 
While Zach Braff's comments do not guarantee that future episodes of Scrubs will ever be made, with the existence of series like Fuller House, Gilmore Girls: A Year in the Life, Girl Meets World and even a short Will & Grace reunion, you never know. 
The good news for Scrubs fans is that there have been conversations among the cast, so there is always hope.