10 classic stories to read in 2017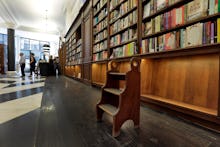 It's time to start thinking of those New Year's resolutions, and who doesn't say they want to read more? With all the distractions of everyday life — smartphones, computers, new series to binge-watch on Netflix and Hulu — setting aside time to read can be a challenge. But there's always time to read if the story is a great one. Whether tastes tend towards comedy, romance or politics, these 10 books will make sticking to that New Year's Resolution much easier. 
1. 1984 
George Orwell's dystopian story of a man fighting against a totalitarian government run by the elite Inner Party was first published in 1949, detailing the persecution of "thoughtcrime" (aka independent thinking). Called an "utterly depressing vision of what the world may be in 35 years' time" by Time magazine when it was originally released, the book is absolutely worth revisiting in 2016. 
2. Gone With the Wind 
Don't be daunted by the size of this book: It's nothing if not a page-turner. Margaret Mitchell's story of the South through the rise and fall of the Civil War, told through the trials and tribulations of Scarlett O'Hara is a gripping, thrilling story. And while the movie is absolutely fantastic, don't think that it can replace the book. They should both be savored separately. 
3. The Bell Jar 
Sylvia Plath's only novel details the protagonist's descent into mental illness in a devastating style. The book follows Esther Greenwood as she moves from Boston to New York to intern at a prominent magazine. But she soon begins struggling with serious depression and undergoes various treatments. The Bell Jar is currently being adapted into a film starring Dakota Fanning and directed by Kirsten Dunst. 
4. The Handmaid's Tale
Before tuning in to see Elisabeth Moss star in the Hulu series adapted from Margaret Atwood's novel, be sure to read the book, which explores the enslavement of women in the dystopian world Republic of Gilead, as well as how they rebel and seek their freedom. 
5. The Secret History 
A surprising twist on the "whodunnit" murder mystery format, this book is a "whydunnit," which reveals the ending of the story at the beginning and guides the reader through how and why it happened. A perfect book for a long car or plane trip, The Secret History is almost impossible to put down. 
6. Far From the Madding Crowd 
Honor, betrayal, class differences and never-ending romance make the pages of this book by Thomas Hardy turn more quickly than a reader can keep up with. It doesn't hurt that the protagonist is incredibly strong and independent, either. This story has been adapted into two different films, both of which are wonderful. 
7. The Trial 
Another thought-provoking political story, Kafka's work narrates the experience Josef K., a man who is prosecuted by an enigmatic, intricately bureaucratic authority without being informed of the crime he committed. Neither K. nor the reader is informed why this happens to him, perhaps because this work was unfinished. 
8. To Kill a Mockingbird 
Everyone could use an Atticus Finch in their lives. Six-year-old Scout and her brother grow up in the South and learn to challenge racism and prejudice with the guidance of their father's high moral standards.  
9. One Flew Over the Cuckoo's Nest 
The words "medication time" will never sound the same. Ken Kesey's tale of tragic and triumphant rebellion, which was inspired by his time working as an orderly at a mental health facility, is a fascinating look at both societal and medical institutions. 
10. A Confederacy of Dunces  
Set in New Orleans, John Kennedy Toole's book follows the lazy, cranky Ignatius Reilly, a man so eccentric, it's impossible to stop reading about him.