The best appetizer recipes to serve at your New Year's Eve party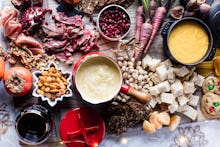 Hosting the last and simultaneously the first party of the year can be stressful. But a few good appetizers, plenty of good punch and a few bottles of champagne can easily woo guests into having a great New Year's Eve. Before the big countdown, make some of these tasty finger foods to send off 2016 in the most delicious way. 
Bacon wrapped dates with goat cheese
This appetizer is crunchy, salt, sweet and cheesy AND you can eat it on a stick. Get the recipe here. 
Fried mac and cheese balls
You just won all holiday parties of 2016 with these gooey fried treats. Get the recipe here.
Manchego and sausage stuffed mushrooms
Nothing like a stuffed mushroom to kick off a party! Literally, nothing. And these cheese and sausage-filled mushroom caps will start your New Year's Eve off on many good notes. Get the recipe here.
Sesame shishito peppers
These easy to make finger-friendly peppers will bring in the new year with a satisfying pop of spice. Get the recipe here. 
Garlic butter pepperoni pizza rolls
Guarantee that your friends will make your house the party spot in 2017 when you serve them these tasty homemade pizza rolls. Get the recipe here.
Fennel pork sausage rolls
Pigs in a blanket get a fancy upgrade for the last day of the year. Get the recipe here. 
Cheese fondue board
There's something about New Year's and fondue that pair so well together. Make this board to treat your guests to a dipping feast. Get the recipe here. 
Easy coconut shrimp
Every party could use coconut shrimp! Don't believe us? Well, consider yourself warned. Make a batch, just in case. Get the recipe here. 
Honey baked teriyaki chicken wings
Any party goer loves a sweet chicken wing. Or several. Get the recipe here. 
Red curry cauliflower "wings"
Meat-free celebrators will be thrilled with these crispy cauliflower bites that will make chicken totally irrelevant in the year to come. Get the recipe here. 
Pretzel crusted mozzarella sticks
All you really have to do is coat string cheese in smashed pretzels to make this snack hybrid that will wow your guests. Get the recipe here. 
Roasted grape crostini with whipped ricotta and hazelnuts
This warm grape crostini pairs perfectly with, guess what, champagne! Get the recipe here. 
Pretzel potstickers
These chicken and apple potstickers with a pretzel crust will disappear as soon as you set them out. Get the recipe here. 
Lamb dumplings with cucumber vinegar dipping sauce
These unique dumplings are packed with flavor that will get guests ready to party! Get the recipe here.