Anis Amri Update: Search for Berlin Christmas market attack suspect underway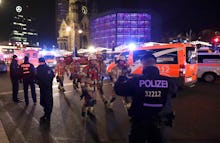 German authorities confirmed on Wednesday that a massive search is underway for a man suspected in Monday's truck attack on a Berlin Christmas market that left at least 12 people dead and 49 injured.
German authorities announced they are searching for Anis Amri, 23, a Tunisian national, in connection with Monday's attack. Amri may be armed, authorities said. Amri's residence permit was reportedly found in the cab of the truck.
An arrest warrant released by authorities listed six other aliases of varying nationalities that Amri has allegedly used. Amri reportedly traveled to Italy in 2012 before moving to Germany in 2015, where he applied for asylum. Amri was granted a "temporary leave to stay," the BBC reported.
His application for asylum was rejected in June and he was reportedly slated for deportation. Amri was known to counterterrorism officials, and "regularly checked" by officials, the BBC reported, citing German news sources — but Amri's deportation was delayed while authorities waited for documentation identifying him as a Tunisian citizen.
A separate suspect believed to have been involved in the attack was taken into custody Monday night, but authorities expressed doubt that he was the person responsible and he was released due to "insufficient evidence" on Tuesday.
German authorities are offering a reward of €100,000 — $104,000 in U.S. dollars — for information leading to Amri's arrest.