David Bowie: How he changed music, fashion and tech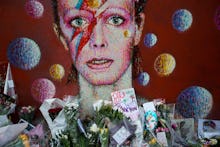 David Bowie was one of many major music icons we said goodbye to in 2016. His death left a void, but also allowed us to look back in awe at his long legacy and the impact he had across popular culture. 
Bowie, passed away from liver cancer on Jan. 10, leaving behind his wife Iman, a model and entrepreneur. He was 69 years old. Before he died, he released a jazz album called Blackstar and was working on an off-Broadway show called Lazarus. 
Originally from Britain, Bowie crossed the pond into the American music mainstream in the early 1970s. Upon Bowie's death, many contemporary artists across genres — including Madonna, Kanye West and Lorde — praised Bowie's work as an inspiration to their own artistic approaches. 
Bowie was known as a boundary pusher in music, fashion and technology. Here is a look back at how he made his mark in each of these worlds. 
Music 
Critics saw Bowie as a musical chameleon whose influence was present across multiple genres at different points in modern music history. Many artists cite his colorful, bright and metallic glam-rock era as his most influential. 
Brandon Flowers of The Killers told the Independent that Hunky Dory is the record most important to him. Arctic Monkeys guitarist Jamie Cook said when making the group's 2013 album AM, he listened to The Rise and Fall of Ziggy Stardust and the Spiders from Mars, according to RVA magazine. Lady Gaga is also said to have drawn inspiration from this period. 
Bowie also set the blueprint for popular dance music on his popular collaboration with Nile Rodgers "Let's Dance," which was a no. 1 hit in the U.S. 
Bowie's wide range of tastes he brought to rock music was influenced by his wide palette of what he listened to. As a commencement speaker at Berklee College of Music in 1999, he revealed some of his influences included jazz musician John Coltrane, John Lennon and Florence Foster Jenkins. 
It is especially important to highlight how Bowie's presence in the music industry helped a generation of LGBTQ artists find their own voice in their music and survive in a society that marginalizes them for who they are. Many expressed that his free-spirited essence gave them permission to be themselves. Queer punk duo PWR BTTM dedicated a series of heartfelt tweets to Bowie after his death describing this impact. 
Bowie also called out MTV for not airing black artists' videos on the station. Bowie learned from his friend Nile Rodgers about the disparity in American radio and television and was perplexed at the issue. During an interview on the station in 1983 with VJ Mark Goodman, Bowie challenged the channel's programming direction.
"It occurred to me having watched MTV over the last few months that it's a solid enterprise," Bowie said. "It's got a lot going for it. I'm just floored by the fact that there's so few black artists featured on it. Why is that?"
Fashion 
Bowie's style was eccentric and ethereal. He took an androgynous approach at times and was fearless when it came to switching up his looks to match his various alter-egos. Bowie's fashion choices remain ingrained in high fashion. Several designers, such as Jean Paul Gaultier, Balmain and Jonathan Saunders, have channeled Bowie's energy on the runway. Lady Gaga paid tribute to Bowie's style on the Grammy Awards red carpet this year. 
Tech
Years before streaming services became the go-to way for new music, Bowie began embracing technology as a distributor of his work. In 1996, he sold 300,000 copies of his song "Telling Lies" through the Internet and was considered the first major artist to do so, according to the Guardian. 
In September 1998, he launched his own internet service called BowieNet, where he offered free exclusive content to his fans and interacted with them through a chatroom. BowieNet was also an internet service provider similar to AOL, and provided one of the few alternative internet options at the time. Additionally, before live streaming of concerts and music festivals were embraced, Bowie aired a "cybercast" of his Earthling concert in 1997. 
During an interview with BBC Newsnight with Jeremy Paxman in 1999, Bowie spoke on the future revolution of music's relationship with technology.  
"It's becoming more about the audience," he said. "So from my standpoint, being an artist, I want to see what the new construction is between artist and audience. There is a breakdown ... I don't think we've even seen the tip of the iceberg. I think the potential of what the internet is going to do to society — both good and bad — is unimaginable. I think we're actually on the cusp of something exhilarating and terrifying." 
Although Bowie is no longer here to see how his advances in the realms of music, fashion and technology will continue to take us forward, many crediting Bowie's work following his passing have acknowledged we are undoubtedly living in the future Bowie lived in all along.