Last minute gifts 2016: 5 Christmas presents you can buy online that still seem thoughtful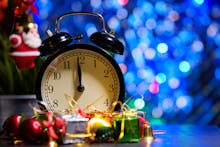 Hey procrastination-McGee: You really let things get down to the wire.
Stores are closing, delivery workers are heading home and you're about to show up to Christmas dinner empty-handed.
Think of your forlorn nephew staring up at you with wide, teary eyes.
Don't let that be you. 
Here are 5 truly last-minute gifts that you can buy from the comfort of your home. Run to the drug store for a card and you'll be set.
Tickets to baseball's opening week: $42+
Studies suggest most people prefer getting experiences to material goods, and a subscription means holiday fun can get stretched out for a whole year. 
Baseball season is still a few months away, and tickets to opening day can seriously set you back, but tickets to the rest of the games of opening week can still be had for a steal. 
Even the World Series champs, the Chicago Cubs, have a lot of bleacher seats left for opening week that'll only set you back $42 a pop. 
This play obviously works for other sports too, although tickets for football, basketball, and hockey are typically less plentiful and more costly.
But there's also something very Americana about giving someone a pass to opening week: We predict it'll be a home run.
Send them to pot school: $18 a month
For the stoner who's always talking about how they want to start growing their own, or getting into the green rush, a subscription to the cannabis-inspired online education company Green Flower may be the way to go. 
Billing itself as a sort of educational Netflix for cannabis enthusiasts, the subscription service has instructional videos on everything from how to roll the perfect joint to what sorts of buds are safe to feed Fido.
There are a ton of food subscription services out there, from high-end to lets-get-dinner-made.
While Plated and Blue Apron are well-known names, PeachDish got top marks when Mic put the players' veggie options head-to-head. 
They're a little different from some of the other subscription services out there. With PeachDish, you order the actual meal you want by Sunday and then have the ingredients delivered. This requires a little more effort, but cuts down on the possibility of getting food delivered that you're less-than-psyched about. 
We also give PeachDish major points for their southern flair, with dishes like New Year's Hoppin' John and red beans and rice. 
A personalized magazine from Recently: 8.99 a month
Recently's pitch is that print ain't dead, and sometimes it's nice to have physical copies of your best Snaps and Instas. 
Essentially, you download the app and choose images you want in each "issue" via your phone. You upload pics to Recently, which then prints and binds them into a sleek magazine. 
You can choose from 50 to 100 photos for each issue, and gift subscriptions come in all sorts of denominations, depending on how prolific a poster the recipient really is. 
Send cash with heart: Up to you
If all else fails, sometimes it's best to just go with cash. 
No, you'll never win shopper of the year by pulling the old failsafe, but a startup called Tendr will help you add a nice flourish.
Sort of a Paperless Post with cash attached, Tendr will let you ship money to the person of your choice while also adding a touch of personalization.
You can imput your desired amount, and chose from number of designs cooked up by a group of 23 artists around the world.