North Carolina lawmakers fail to repeal HB2 after deadlock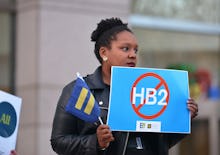 The North Carolina Senate failed to reach an agreement Wednesday to repeal House Bill 2, a controversial bill that prohibits municipalities from adding legal protections for people who are not covered under the state's nondiscrimination law.
HB2 was widely criticized as an assault on the rights of LGBTQ people to live free of sanctioned discrimination throughout the state. The bill also required people to use the bathroom matching the gender on their birth certificates versus their gender identity. 
Republicans in the Senate were unable to reach an agreement to repeal HB2 even with a huge caveat — a six-month "cooling-off period," during which city governments can't enact or amend local discrimination ordinances to regulate access to public restrooms, showers or changing facilities like locker rooms. 
Republican Sen. Phil Berger, who sponsored the bill, called it an "opportunity to start over." 
In a special session Wednesday, Charlotte voted to repeal a local nondiscrimination ordinance that Republicans blamed for the statewide HB2. In an effort to have a fair "do-over," both the city and state were set to repeal their respective pieces of legislation. 
According to the North Carolina NAACP's Twitter, some legislators as well as demonstrators were upset at both the attempt to include the "cooling-off" period and the eventual failure of the state legislature to follow through on the repeal.
Tom McKay contributed additional reporting to this story.
This story is breaking and will be updated.