The best new TV shows from 2016 to binge watch during the holidays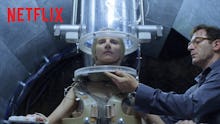 The holidays are upon us and the year is quickly drawing to a close, and while 2016 was an era of doom and gloom in the political arena, it proved to be a wondrous time for good television. 
Cable networks like HBO and FX provided some amazing new content, while streaming services like Netflix relentlessly released stunning original series after stunning original series. 
2016 proved, if nothing else, that we truly live in the golden age of television. From science fiction to comedy, drama to fantasy, here are the best new shows from the year to binge watch right now.
Stranger Things
At the top of our list is Stranger Things. Not only was the Netflix series an epic 1980s throwback that featured superpowers and an alternate dimension, but it also told a compelling, well-paced story of a group a children who came together to literally save the world, all while overcoming bullying and their own differences — and of course the Demogorgon.
Luke Cage
Marvel's latest superhero series, Luke Cage, centers around a wrongly convicted black man who, after gaining his powers of super strength and breaking out of prison, sets out to purge the criminals from Harlem and take down the nefarious Cottonmouth. 
The Netflix series premiered to rave reviews, garnering respect and admiration from critics. Not only is Luke Cage exhilarating with a slew of well-crafted characters, it's a celebration of black culture and a "symbol of how black people have thrived in a centuries-old cycle that's had them exoticized and disenfranchised," io9's Evan Narcisse wrote.
Westworld
What happens when technology reaches a point where human beings have free reign over artificially sentience machines? That's one of the questions HBO's Westworld works to answer. A remote park that stretches as far as the eye can see, and beyond, is filled with Hosts — robots that look and act exactly like humans. Guests pay a handsome fee to roam the park, having complete dominion over the animatrons and a free pass to interact with them in any way they see fit. 
Westworld is a slow-paced show that invests ample time in developing each of the characters, while also building upon the growing suspense of the Man in Black's pursuit of the elusive and mysterious Maze — a remnant left over by one of the park's creators that holds an untold key. It's filled with unexpected twists and turns, and offers a season finale that crescendos into a gloriously macabre outro.  
Atlanta
FX's Atlanta proved it was unlike any other show on television. Its aesthetic value and distinct framework, coupled with a director steeped in experience making music videos, makes Atlanta stand apart from the crowd.
The show's surreal reality pairs aspects of the culture we've grown familiar with, while also introducing new and interesting quirks, and occasionally bizarre moments. 
Atlanta makes a point to focus on each of its main characters, sharing the spotlight almost equally among them all. Atlanta is less of a linear storyline and more of a televised stream of consciousness — which, while it does sound odd, definitely works.
The Crown
A period drama on Netflix that explores the inner workings of British parliament and the early life of Queen Elizabeth II, The Crown is a work of art filled with rich performances and a focus on accurate historical detail. 
The Crown begins with King George still in power, smoking in virtually every scene. Ultimately, his habit claims his life, and a young and inexperienced Elizabeth takes the throne. The story takes its time advancing forward, providing visually rich scenes and relatable characters that struggle to find their place in their new positions. 
Divorced
Frances has it all: a good job, a husband who loves her, two teenage children and a beautiful house in Westchester County, but that doesn't stop her from having a midlife crisis. After her husband discovers her serial affairs, and after the couple witness a near-death experience at their friend's 50th birthday party, the talk of divorce begins. 
HBO's Divorce keeps itself grounded in the harsh reality of ending a marriage — custody battles and endless court hearings. It starts off amicably enough, but just a few episodes in, Divorce dives into the complicated and often vindictive actions of Frances and her now ex-husband.
The OA
Netflix's The OA is filled with intrigue and mystery that forces the viewer to question the main character's reality. When Prairie returns after being missing for more than seven years, her small town views her as a living miracle — especially since she once was blind, but can now see. 
Prairie lives with her adopted parents, but finds solace in a new group of friends, soliciting their help in her dangerous mission: to travel through an extra-dimensional portal to save her fellow captives who remain prisoners under the cruel Dr. Hunter Hap.
Prairie and the other captives have all had a near-death experience, something Dr. Hap posits gives them special abilities. He keeps them imprisoned, experimenting on them in the hopes of unlocking their power and traveling to another dimension himself. But their captivity and his tests may become the key to their escape.
The People vs. O.J.: American Crime Story
The People v. O.J. Simpson: American Crime Story on FX was hailed as the new Making a Murderer, with award-winning performances and a riveting experience — even though we already knew the outcome of the story. 
The historical events were replicated in painstaking detail, but what makes the series so compelling is the experience of seeing the rival legal camps and the squabbles between Simpson's dream team of lawyers.
Insecure 
Issa is a 29-year-old black woman who works for a nonprofit organization that mentors underprivileged children. Being the only black employee at her work, Issa grows increasingly suspicious of her co-workers "secret white meetings" and "secret white emails." Issa struggles with her live-in boyfriend too, who just can't seem to find a job. 
Insecure on HBO is a beautiful depiction of Issa overcoming her self-doubt and navigating the oftentimes tumultuous waters of her workplace, all while offering hilarious dialogue and epic, self-motivational rap sessions.