'Super Mario Run' Update: Friendly Run lets you compete online — with some limitations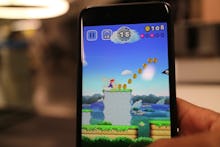 Super Mario Run got an unexpected new feature on Wednesday. Friendly Run mode lets you compete online without the tickets necessary for the Toad Rally feature. Nintendo announced the news with a notification from the Super Mario Run mobile app. 
Unlike Toad Rally, you aren't competing for the Toads necessary for building your kingdom in the game. So Friendly Run is less of a high-stakes experience. 
However, there are still some limitations to this new mode. Here's how to use it: For one, you'll need to connect with friends using the Friend List feature in Super Mario Run. You're also limited to a set number of plays per day. 
If you haven't cleared World 1 yet, you only get one play per day. If you've cleared World 1 you can play three times per day, and if you've cleared World 2 you can play five times per day.
It's worth noting that in order to clear World 1 you need to pay $9.99 to download the full game. So Nintendo is definitely encouraging people to pay up with this new feature.
More Super Mario Run tips, tricks and update
If you want to know more about Super Mario Run, walk calmly toward Mic's latest coverage, like our review of the demo, an explanation for why the game isn't free, an advisory about how much data Super Mario Run will really use and a list of Android games to play while you wait.