Romania nominates first female, first Muslim prime minister, Sevil Shhaideh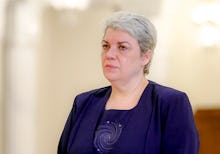 The biggest political party in Romania, the Social Democrats, has nominated 52-year-old Sevil Shhaideh for the role of prime minister — and if she is approved, she will be the country's first female and first Muslim to serve in that capacity, the New York Times reported Wednesday.
Shhaideh, an ethnic Tatar, must be approved by President Klaus Iohannis and Parliament.
According to the Times, the Social Democrats turned to Shhaideh after winning 45% of the vote in the Dec. 11 elections because the party's leader, Liviu Dragnea, "was convicted of fraud and given a two-year suspended sentence in April." Shhaideh served as "minister of regional development for six months in the last Social Democratic government," the Times reported.
According to the Daily Sabah, Romanians were surprised to learn of Shhaideh's nomination because she is not a prominent name throughout the country. While Dragnea praised Shhaideh as a competent public administrator, he noted "If appointed, she would be prime minister, but the political responsibility stays with me first of all." Bloomberg reported the pick of a relatively unknown politician has caused some speculation Dragnea intends to use her to evade restrictions on his own ability to seek the office.
"I don't intend to rule from behind the scenes," Dragnea said, according to Bloomberg. "All the measures I approve will be carried out in an open and transparent manner."
Liberal Party head Raluca Turcan criticized "Dragnea's obsession to stay in control. We won't vote for such a government and we'll be their opposition in Parliament."