When will 'The Leftovers' season 3 premiere? Plot details, cast and more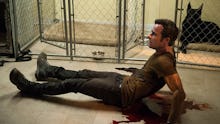 It's been over a year since HBO presented us with the surreal, moving and ultimately uplifting finale of The Leftovers' second season, a season that expanded upon a bleak world where 2% of the population randomly disappeared, or, in Leftovers-lingo, "departed." 
Damon Lindelof, the mastermind behind the series, has opened up about the third and final season, which premieres in April. As expected with a show that  heavily relies on mystery, he didn't reveal too much.
Season two recap
Season two began with Kevin Garvey moving his family from Mapleton, New York, to Jarden, Texas. Known as "Miracle," not one of Jarden's residents disappeared during the Departure. But the arrival of Kevin disrupts things, especially when his next door neighbors' daughter — and two other teenage girls — go missing. 
A bulk of season two's plot focuses on finding the girls, the disintegrating faith of the town, and the chaos that looms as the Guilty Remnant — the chain-smoking cult determined to never let anyone forget about the departures — plans their next move. 
There's also Kevin's personal journey, one that culminates in the finale as he finds himself (twice) in purgatory, where he must battle the demons plaguing his mind. The Leftovers doesn't answer the question of what happened to all those who departed or why they left, but it does end with the town of Jarden learning that no one is immune to tragedy. It also ends, more specifically, with Kevin arriving to his home, seeing that his entire family — Nora, Jill, Tommy, and Laurie — are present. 
What we know about season three
Considering that season one took place in New York, and two in Texas, it's not surprising that Lindelof wants to switch things up in season three. In an interview with Entertainment Weekly, Lindelof spoke about shifting things to Australia, and gave a little of info on the significance of the country.
"Australia is the end of the world geographically and our show is about the end-of-the-world emotionally," Lindelof said. "And there's also something about Australian cinema — it's primal, ancient and spiritual — that felt like it fit The Leftovers, whether it's Mad Max movies or Walkabout, or Walking Fright or Peter Weir movies." 
Lindelof confirms that Kevin will be taking a trip to Australia — along with some other characters — where he will reunite with his father, "who may or may not be hearing messages from God." 
"It's like The Godfather," Lindelof said. "Marlon Brando keeps telling his son Michael, 'I don't want this business for you,' but every time the shit hits the fan, Michael is in the room. So Senior is mixed up in something and pulls Kevin into it."
Other than Australia, the show will continue in Texas. In addition to Justin Theroux, who plays Kevin, Carrie Coon, Amy Brenneman, Kevin Carroll, Christopher Eccleston, Scott Glenn, Regina King, Jovan Adepo, Lindsay Duncan, Janel Moloney, Margaret Qualley, Jasmin Savoy-Brown, Liv Tyler and Chris Zylka make up the cast for the final season. 
Entertainment Weekly also released an exclusive promotional photo from the upcoming season, which shows Kevin and his father seated on a rooftop.