Donald Trump names Kellyanne Conway counselor to the president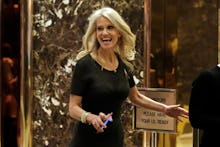 President-elect Donald Trump announced Thursday that he created a position for his campaign manager and top surrogate Kellyanne Conway, naming her counselor to the president. In the role, Conway will help advise and craft Trump's message, according to a press release announcing her new position.
"Kellyanne Conway has been a trusted advisor and strategist who played a crucial role in my victory," Trump said in the announcement. "She is a tireless and tenacious advocate of my agenda and has amazing insights on how to effectively communicate our message. I am pleased that she will be part of my senior team in the West Wing."
Conway, the first female campaign manager to run a winning presidential campaign, was in the mix to become Trump's press secretary.
But she declined the role, saying it wasn't conducive to raising her four children.
"Before I can accept that job, I have to recognize that I'm a mother of four children who are at very tender, very fraught ages — 12, 12, 8 and 7 — and I can't just say, 'Oh, but they'll be okay,'" she told the New York Times on Dec. 9. "Someone else will take care of them."
"I want to thank the president-elect for this amazing opportunity," Conway said in a news release announcing her new role. "A Trump presidency will bring real change to Washington and to Americans across this great nation. I am humbled and honored to play a role in helping transform the movement he has led into a real agenda of action and results."